Adams Tight Lies GT 363 Titanium driver
Price: £235
This week's joint announcement by the world's rule-makers brought good news and bad news for golfers and club makers.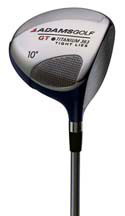 Adams' deep-faced 363 driver.
Good news for us golfers means that we can continue to use big-headed, thin-faced drivers and get closer to emulating our heroes by smashing our golf balls further than we ever imagined.
Good news for manufacturers is that despite restrictions to be placed on clubs with large heads and trampoline effect faces, a whole new market has opened up for hot-drivers in the US, Mexico and Canada for the next five and a half years.
Bad news for amateur golfers is that the drivers will be banned for competition play from January 2008 and for equipment manufacturers that they will have to come up with some new innovations well before then, if they're not to lose the motivation they've created.
Bottom line is that I can continue to enjoy hitting these monster clubs in medals and stableford – and just for fun – for a little while yet.
The latest to give me that luscious feeling through my fingertips and see my golf ball soaring into the far yonder is the barely legal Adams Tight Lies GT 363 Titanium driver.
With a clubhead profile as square as the jaw of its brash but entertaining New York inventor, Barney Adams, I was unsure whether I was going to like the club many had been raving about.
But it grows on you and in the end I couldn't keep my hands off it.
I had several others in my bag when I was testing it but my fingers were constantly drawn to the distinctive clubhead cover. Even from a tight lie off the fairway the ball is begging to be hit and the clubhead responds by striking it so sweetly, the ball takes off like a tracer bullet.
The sound is distinctive, too as the electric blue, 10-degree clubhead combines with the regular flex ultralite graffaloy shaft to produce a strong, penetrating ball flight which helps deliver an extra 15-20 yards of roll on impact.
Other loft options are 8, 9 and 11 degrees and the alternative steel shaft is the True Temper Bi Matrix.
Verdict
At £235 it's one of the cheapest in its class but has the looks of a product nearly double the price. Don't ask me how it works, I'm only a twice-a-week golfer with a passion for trying to hit good golf shots, but its heel-weighting seemed to produce more accurate shots and challenge far more expensive clubs in distance.
Golfmagic rating: 8/10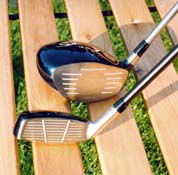 Little and large - driver and i-wood.
Adams Tight Lies GT i-wood
Price: £129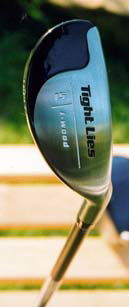 15-degree i-wood.





During the same test session I also had the chance to try out Adams' latest Tight Lies GT i-wood – neither a wood nor an iron but with a 15-degree loft equivalent to a strong 1-iron or 3-wood.

It's baby head, compared to its 363cc big brother – similar to TaylorMade's bulbous Rescue Club – looks vaguely weird at address. But trust it and your swing and it will reward you with a shot that produces the flight of a Howitzer shell.

It behaves most eagerly from a low tee peg or a tight fairway lie but delivers a low punchy flight from semi-rough that will run almost for ever.

At a cost of just under £130 this hybrid with GT steel/ graphite-tipped shaft the i-wood might be a luxury for many but take the opportunity try one at your local stockist (call 01483 239333) before you dismiss it.
Verdict
Once I got used to what seemed to be a tiny head, it was a joy to hit and would prove a very versatile club especially on narrow fairways where accuracy is at a premium.
Golfmagic rating: 8.5/10