TaylorMade Rossa Sport 3 putter
Price: £129
Now I'm not a conventional putter. I have been experimenting with various grips and stances for a few months, trying to discover the secret of reducing my handicap via the putting green.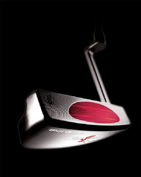 Rossa' ruby insert.
It has, at times, been an ugly process – littered with a mixture of joy and heartbreak and the occasional expletive.
I have finally admitted it's me, not the succession of putters I have tried to replace the old Par-One Ping copy that has been in and out of my golf bag for the last 30 years.
The TaylorMade Rossa Sport-3 came into my temporary possession at a time when my action was torn between left-below right and the 'claw' introduced by US PGA tour player Chris DiMarco, so it had much to contend with.
At first, with its square, angular head and crimson insert it looked and behaved like a stick of rock. I just could not get the feel from the face that Ernie Els claimed he got when winning Heineken, Dubai or Genuity Classic tournaments.
But with TaylorMade investing millions in this new range of putter with its two-piece Titallium insert – one in the face, one in in the back separated by a one millimetre steel membrane - it could not be dismissed instantly.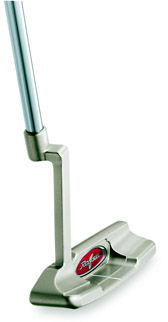 Attractive-looking clubhead.
I perservered and have learned over recent weeks to appreciate the distinct sound and feel created by the clubhead.
Els and more recently Justin Rose – appropriate that with a name like his, he should be using the rose-coloured club – are using the putters with great distinction. And now Loren Roberts – recognised as one of the world's consistently great putters – is using the Rossa range, too in a bid to re-claim his place among the world's top 50 golfers.
You tend not to associate spin rate with putters but according to Rossa's Tom Olsavsky: "Putters usually produce between 40 and 400 rpms when it comes to backspin. All putters in the Rossa line are on the lower end of that rpm range, measuring between 0-100 rpm…one of the lowest ever seen in the industry."
He adds: "The higher the spin, the less control the golfer has off the face. Even though it's naked to the eye, the better player can feel this. With the Rossa putter, all golfers will get optimal ball acceleration and minimal initial bounce on impact, giving the putt a very consistent roll." Easy for him to say!
I couldn't feel it but as I got more used to the putter, I could sense the better roll it achieved compared with others I have used recently. Distance control also showed improvement.
In the hands of my local assistant pro Neil Evans – whose impressions I respect – the club looked tailor-made, so to speak, though a little short in the shaft for his taste.
"I like the stainless steel head and the grip feels comfortable immediately," he told me.
Though it has to go back to the manufacturers, I may well shed a small tear at losing the opportunity to get more used to it and the prospect of it ousting my veteran putter permanently.
The Rossa Sport 3 comes with a four-degree loft and 71-degree lie angle, and shafts of 33,34 and 35 inches are available. Two left-handed models are available in each of the Sport and Tour lines.
For your £129 price tag you also get a novel red, black and yellow synthetic leather sock to cover the putter head. For your nearest stockist call 0800 389 4292.