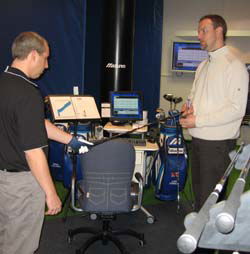 Mark Duncombe (right) explains custom-fit techniques to Howard Wilkins
As anyone who has ploughed their way through the 7-page Golfmagic forum thread "Custom fitting, it's as good as a lesson" will know, the pantomime season is well and truly upon us.
Custom fitting is the answer, said many. "Oh no it isn't!… Oh yes it is!… Oh no it isn't!
The discussion went on and on until, as a custom-sceptic, I was invited by Mizuno (whose marketing staff watch the Golfmagic.com forum closely) to check it out for myself.
As a member of the prosecution, I questioned the current fashion for custom fitting. My argument M'Lord, was that players would be better served by taking lessons and practising their short games to lower their handicaps. And furthermore, your Honour, I would submit that the majority of players would be recommended a standard fit, a steel regular shaft and as a result would end up paying more for their clubs.
My view was that the golf industry was over-stating the importance of custom-fitting as a key marketing ploy to shift more clubs.
However, having stated my case, I was invited by Mizuno to experience the company's latest custom-fitting centre at Pachesham just off the M25, and took along my long-time playing partner, Howard Wilkins for a second opinion.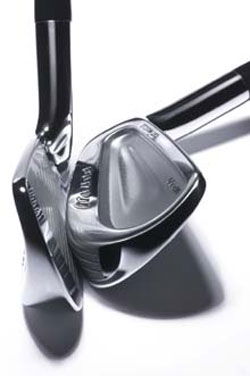 Mizuno MP-60 iron




We have been playing partners since we were teenagers, have both now reached the age of 40 and play off handicaps of 10 and 9 respectively. We have also played similar equipment. Currently we both have Mizuno Comp EZ irons (standard fit with True Temper Sensicore R400 shafts), though I play a TaylorMade 8.5 degree driver with a stiff shaft and Howard uses a 9-degree Mizuno MP001 driver with Graffalloy Blue stiff shaft.

Of similar height (around 5ft 8 in) we hit the ball similar distances (8-iron about 145 yards with a 10-yard distance gap between each club). I've always been perhaps half a club longer on a good ball-striking day as a 'sharp' hitter compared to Howard's 'swing' technique.

Our view has always been that as we hit the ball similar distances, we would require similar club specification. Wrong!

And at this point I need to come clean and consume a huge slice of humble pie! Let me explain…

Our custom-fitting started with a introduction from PGA pro and Mizuno fitting specialist Mark Duncombe, who explained that all fittings are taken using a 6-iron. First I used my own club, as a camera measured launch angle, back spin, side spin, clubhead speed and launch speed. From these parameters a computer calculated the 'ideal club set up' for my particular swing.

I seemed to hit the ball well with my own club but the computer revealed that there was a surprisingly wide range of distances as well as dispersal (the cluster of balls). My longest, 178 yards; my shortest, 156 yards.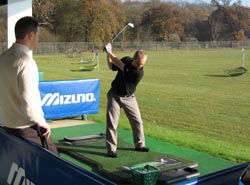 Howard on the range




Mark then handed over a Mizuno MX-23 6-iron with a regular shaft and the dispersal was similar, so I tried a stiff S300 Lite shaft and, according to the computer, I hit three successive shots 167 yards. We were getting somewhere.

Next I tried a Superlite shaft, but overall a DynamicGold S300 gave me the best combination of distance, dispersal and distance control - around 170 yards and much straighter.

I desperately wanted him to recommend the latest Mizuno MP-60s rather than the chunkier MX-23s, but while the feel is great the computer tells him that because I hit the ball on a low-ish trajectory, the M-23s gave me more height because the heads have lower centre of gravity and ball flight is better.

He explained that a spin rate of 3500 rpm and a launch angle of between 13 to 15 degrees was what we should be looking for. It worked and I nipped next door to the range and consecutively nailed three, big, arrow-straight drives. Yes!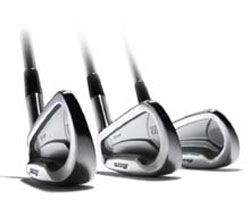 MX-23s for more height




I'm a standard-fit for grip, club-length and lie but Howard was fitted with a lie in his irons that was 'two degrees flat' with shafts half an inch shorter than standard! He retained the regular shaft but because he hit the ball higher than me he could use the MP-60s I yearned for! He also delivers a slightly lower ball flight than he did before but with the right spin characteristics to suit his game.

Howard's own driver, however, proves to be a perfect match for him. This cheers me up because, though he gets to buy those beautiful irons I covet, he can't get a shiny new driver and his wayward hitting is merely down to 'driver error'. He couldn't blame the equipment.

In conclusion, Howard and I have been convinced that custom-fitting is definitely worth the time and effort. It might not be golf's holy grail but it's one of the vital ingredients that can contribute to making us all better players.

We'll need to practice, and our short game will always be a vital key to scoring but if some of us don't take the opportunity to get fitted we're missing a trick.

By hitting a lot of different clubs at a range you can, by trial and error, pick out the right club to suit you (as Howard did with his driver), but chances are you'll be playing with the wrong shafts (20 years of regular steel for me) or the wrong set up (two degrees flat for him).

As for cost, I'm lucky to be a standard lie and length giving me more options to shop around for cheaper prices on the internet. But I'll need to ensure I'm buying a shaft to suit my game. Howard has less scope because he'll need to visit a Mizuno outlet to have his clubs made to his own specification. However, he believes it's money well spent.

To be super-critical, I'd have wanted to hit more balls with each shaft rather than just half a dozen. But Mark thought he'd seen enough to be objective with his options.

There was also the question of whether you fit the club to the swing or do you improve the swing then fit the club accordingly?

Last year a pro had me hitting less round my body and I consequently generated more height when I practised his recommendations. So a set of those elusive MP-60's could yet be ideal if I have more lessons and work harder on the range.

As for Howard he has always had a flattish swing so the question is: if he learns to swing more upright should he be re-fitted? Mizuno recommends an annual fitting for club adjustment if you think your swing has moved on or changed through injury.

Mark, who offers a free and friendly expert service with no hard sell, had Howard hitting long straight draws rather than high weak pushes and fades inside 30 minutes flat!

We were impressed and now consider ourselves custom-fit converts.