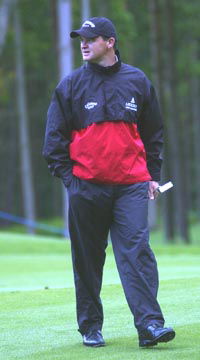 Paul Lawrie – epitomy of the wet-weather pro
Golfers in the UK and Ireland are perhaps more dedicated than anywhere else on the planet. That's why the makers of waterproof golf clothing sell more of their products around these islands here than anywhere else.
There's little need for them in Southern Hemisphere countries because the weather tends to be fine all year round. Indeed, in the the United States( the world's biggest golfing nation), few of the 25 million golfers would ever consider rain as a threat to their golf.
However, for many of us, putting on wet–weather gear on top of our branded golf clothing or adding extra layers of insulation to keep out the cold is far better than no golf at all.
Here are ten things you should know about waterproof and windproof clothing:
1. Why we wear them
Waterproofs are also good protection from the mud and grass which can mess up our clothing even if it's not actually wet or raining.
During the winter months I'll almost always automatically wear waterproof over-trousers on the course, which often enables me to get away with just a sweater over a golf shirt, or polo or turtleneck if it's cool and dry.
Lightweight windproof tops – some with the new fashion of zip-off sleeves – are an added benefit for those cool mornings or to deflect a light shower.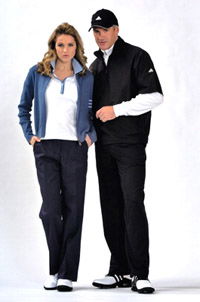 Stylish, protective clothing
2. What you'll need
There's a wide range of wind and waterproof clothing currently available and the prices are coming down fast because of improved and cheaper manufacturing methods and the availability of lightweight materials.
Many of the leading suppliers make a basic full-zip jacket with long sleeves, elasticated cuffs and storm collar, complimented by a pair of matching or colour co-ordinated trousers.
It's important to buy them in a size that allows for at least one layer of normal clothing to be worn underneath.
The golf swing demands freedom of movement, especially under the arms and around the shoulders, while the trousers need to be reasonably easy to take off and put on between showers.
A popular addition to your waterproofs wardrobe might also be a lightweight top with sleeves that zip on and off – particularly handy for those chilly summer mornings when you need a little protection, but still need freedom in your arms.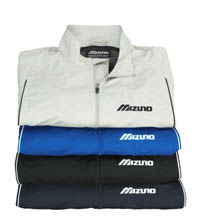 Available in a range of cool colours
3. What is waterproofing?
In our UK and Irish climates there are few brands of clothing, suitable for golf that will keep you fully waterproof. Oilskins and sou'westers worn by the crew of the Cromer Lifeboat would prove somewhat cumbersome in a Sunday morning fourball.
However, you can buy quite cheaply, protective clothing with at least a two-year 'waterproof' guarantee against major leakage, though you'll pay more to extend the warranty to three years.
Personally in 35 years of playing golf I've yet to come across any golf clothing that keeps me totally dry, though clothing with a GoreTEX fabric (a porous membrane between layers of fabric or laminated to it is the most effective). It also allows air to circulate while predominantly keeping water out.
But inevitably playing in heavy rain will never totally prevent water dripping down your neck or seeping into your pockets.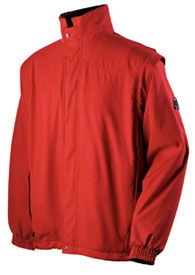 Sunderland GT Pro jacket
4. Jackets
Modern waterproof jackets tend to come in two full-zip styles – elasticated blouson and long enough to cover the gap at the top of your trouser waist when you're crouching to read a putting line.
The blouson style is preferred by the slim-waisted who don't carry any excess girth and can also use the jacket as a social garment when nipping down the pub or into town. The alternative isn't gathered at the bottom but is long enough to comfortably cover the tops of the trousers.
The latest models of full zip jackets are also available with half-zip sleeves leaving the arms free when only wind-proofing is required.
Some manufacturers are also leaning towards pull-over waterproof tops with a half-zip and draw string waist.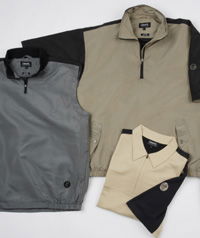 Tops from Ashworth
5. Wind shirts/tops
These tend to be made with ultra lightweight fabrics and not designed to resist anything more than a light shower.
Normally they are designed with a half-zip and elasticated or draw string waist. They can be easily folded up into a small pouch to fit into a pocket of the golf bag as emergency protection.
Zip-off half sleeves are an added advantage when temperatures are cooler in spring and autumn.
6. Storm cuffs and storm flaps
Elasticated cuffs or storm cuffs with button down or velcro flaps are a reasonably new innovation and provide a further aid to waterproofing around the wrists.
Modern tops also have high storm-flap collars to protect against showers. Button down flaps are preferable to the velcro which can be an irritant under the chin.
Make sure waterproof jackets with a full zip have a velcro or button-down flap down the length of the zip to add further protection.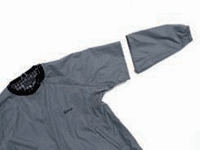 Zip-off sleeves, the latest fashion
7. Pockets
Most jackets have side pockets, though ones with button-down storm flaps are preferred to zips, which never seem to be big enough and can scratch or at the very least snag on wristwatches or bracelets.
DryJoys jackets have a neat innovation of a pocket built into the front full zip to protect your scorecard or valuables.
Look out, too, for those little extras. The Sunderland GT Pro jacket, for example, has a nifty adjustable drawstring device in the pockets which stops the jacket catching on the top of the putter during the stroke. A jacket made by golfers, for golfers.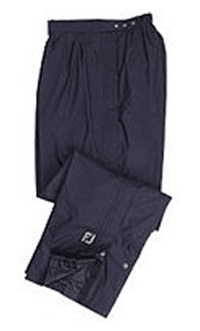 DryJoys zip-up trousers
8. Trousers
Though they tend to be the most expensive, trousers with a zip fly and a draw string waist are always preferred. They are so much easier than a mere elasticated waist to remove or put on during a round, when the weather catches us out.
Also look for trousers with zip-leg side panels and ideally with a velcro flap adjustment, for further protection when it's really wet underfoot.
Side pockets should be deep and big enough to take even mittened hands for us hardy winter golfers and a button down back pocket to keep the glove and/or scorecard dry.
9. Waterproof hats
Eighty per-cent of heat in your body escapes through the top of your head so a waterproof beanie hat is a good investment in the wet.
Water also tends to dissipate evenly around the rim rather than just on to your ball from the peak of your baseball cap when you're putting! So irritating.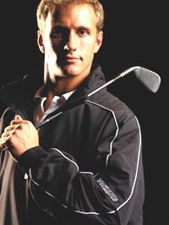 ProQuip Neptune 2 jacket
10. What you should pay
Waterproof suits seem to have tumbled in price in recent years, despite getting more sophisticated. You can pay as little as £50 but don't expect much more than a Teflon coated kagool and trousers.
Alternatively you can pay as much as £300 for a top of the range suit in distinctive colours that's probably more for posing as a tournament spectator than competing in the monthly medal.
You shouldn't have to pay much more than £160 for a good quality suit to keep you comfortable and reasonably dry during a round, however bad the weather.