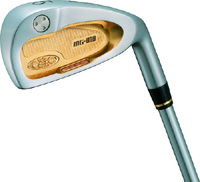 Honma's gold-plated MG-818 iron
Price: £4,500 (3-PW, gold-plated heads, graphite shafts)
I've been lucky enough to play a few millionaires courses – and occasionally even partner a handful of millionaires - but until now I'd never played with a set of clubs only a millionaire could afford.
So imagine the spring in my stride when I stepped out with a gold-plated 7-iron from Honma's luxurious collection worth £562 alone - and I didn't have to wait long to put it to the test.
A new bunker has been inserted into the dogleg at my local club's opening hole and if you lay up with your tee shot it leaves around 130 yards to the middle of the green. Perfect distance for the Twin Marks MG-818 forged 7-iron, into the teeth of an icy north westerly.
Though a little dazzled by the glittering gold plate, I struck the ball with confidence and it never left the flagstick, pitch five feet short into a soggy green, leaving a four foot uphill putt.
Sadly, Honma's £640 LB 202 putter (yes £640!) failed to convert the birdie but I was impressed by the feel and flight of a club usually only Hollywood film actors and Wall Street business moguls can afford.
With its beautifully-crafted head and thick top line, the Honma MG-818 has a regal look about it as you pluck it from the bag and it sits elegantly at address. It's reminiscent of a Yonex iron – another Japanese-made favourite – dipped in honey.
But why should you have to pay so much for a golf club?
Honma says the cost represents the ultimate in prestige, precision and hand-made quality. These, they say, are works of art, assembled in Japan by their own craftsmen and never, ever shipped for re-assembly.
Indeed you can even pay as much as £20,000 for a set of 24 Karat gold-plated, platinum-finished 5-Star' irons from custom-built in Sakata.
Verdict

I enjoyed the opportunity to handle such craftsmanship but at nearly £600 a club, I'd want more than just a mere series of birdie opportunities. For that money, I'd I'd expect to hole a few approach shots, too!
Golfmagic rating: 8/10