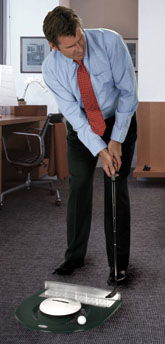 Nick Faldo endorsed the PinShot simulator
The first golf training aid I can remember was a fishing hook on a thread. One end was attached to a sweat band you wore round your head, while the hook was tethered to the crotch of your trousers.
It was a painful way of learning to keep your head down during the golf swing!
Some time later my non-golfing brother gave me a Christmas gift of a ball nailed to a piece of elastic cord. The other end was attached to a tent peg and the idea was to practice your golf swing in the confines of your own garden.
Within five minutes I had suffered severe bruising to both ankles and developed an instinctive tendency to duck, while protecting my private parts in my follow through.
During the early 1990s I was in the garden of putting guru Harold Swash adjoining the Hillside course, in Southport where he'd just taken on the local distributorship of an early version of the current Explanar swing trainer.
One minute I was using the tubular steel device to check my own swing plane, the next minute it came crashing round my ankles!
Experts might say that a similar result would have occurred if either Jim Furyk or Eamonn Darcy had taken my place.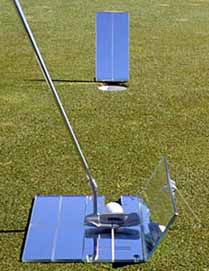 Ray Cook putting mirrors
To say I'm accident prone with training devices is perhaps an understatement.
Today, it seems every coach from David Leadbetter to Butch Harmon, and every player from Todd Hamilton to Ernie Els is endorsing a training aid in print, on the internet, the often cringeing shopping channel or during commercial breaks in TV golf coverage.
The Leadbetter-backed SwingSetter seems to have received universal praise, while the weighted Momentus Swing Trainer endorsed by Todd Hamilton, has helped thousands to groove consistency.
However, it seems most attention, when it comes to devices, is focussed on the scoring zone, with chipping nets and mirrored reflectors and sophisticated simulators designed to squeeze a little more out of our putting potential.
But do they really work? Are those you've tried recommended or a waste of money?
Tell us about the experiences you've had with training aids – good, bad or indifferent – on the forum. We also want you to review the practice aids you've tried so others can learn from your successes and failures.