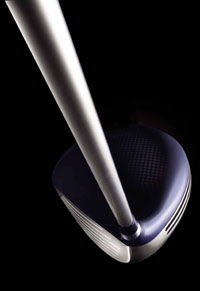 Mizuno 001- sleek, sophisticated
Price: £299 (Exsar 60 graphite regular shaft)
While some manufacturers have been churning out drivers with a short shelf life claiming to produce those extra yards that give amateur golfers bragging rights over their mates, Mizuno concentrated on forgiveness and consistency.
True, they wanted distance too, but with the restrictions on trampoline-faced hot clubs coming into force within four years, the brief to their engineers was to look at other ways of improving performance.
Engineers discovered that introducing a lightweight crown to the clubhead could help create a lower, deeper centre of gravity, get the ball into the air sooner and reduce side spin. Sleek aerodynamic grooves also helped improve clubhead speed, they claimed.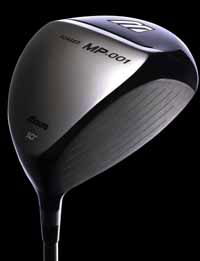 Not a hot face driver.
The result is a club that has the curves of Pamela Anderson, the sophistication of Claudia Schiffer and the personality of Gabby Logan. It has the dogged consistency of Paul Radcliffe but doesn't quite pack the punch of Angelina Jolie.
With its stylish, distinctive, blue, white and black head cover it sits in your bag pleading to be unzipped and played with at every opportunity.
And it doesn't disappoint. It sits at address with its tantalising 400cc head aching to rip a teed up ball into position A onto the fairway and with careful handling delivers great consistency time after time. Even shots you feel slightly mishit will produce regular accuracy. And even off the deck I have yet to find a driver to get the ball airborne with a gentle left to right flight path as often as this.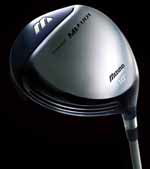 Aerodynamic lines.




This may have been aided by the 12-degree loft version I tested, but for those who prefer straighter faces, 9, 10 and 11 degree models are available (left-hand versions come in 9 and 10 degrees only).

Mizuno had hoped to produce a club that was as long, if not longer, than its rivals but try as I might, I couldn't quite achieve the distances obtained with a King Cobra SS 430 Unlimited or Callaway Great Big Bertha II, but it was a minor disadvantage against the feel, control and accuracy of the MP001.
Verdict
This club is a real 'looker' – even golfing pals committed to King Cobra, Titleist and TaylorMade drivers admitted its beauty. It might not be the longest driver on the course but it feels good, it's straight and it's legal – and that'll do for me.
Golfmagic rating: 9/10