---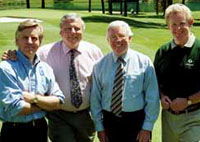 Rider, Alliss, Hay and Donnelly
It's an opportune time to compare television coverage and how the BBC is using our license money to spice up The Open Championship.
Many viewers prefer Sky's informed comment while cutting back to the studio during domestic and major events, while the BBC, with its new interactive service, concentrates on a galaxy of ex-players for its team of experts and the ability to flit from one group to another.
While I haven't noticed any howlers from the so-called doyen of sports broadcasters Peter Alliss (we're still cringeing from the description of the final putt which he thought had earned Phil Mickelson a US Masters play-off!) he still irritatingly takes the viewer back over 50 years to describe what it was like in 'my day'.
I have also noticed a certain amount of jovial hostility towards Alex Hay, the Scot with the lilting brogue, a master at stating the bleeding obvious.
Sam Torrance, Wayne Grady and to a lesser extent Mark James, haven't missed a chance to pull him up on his sweeping generalisations about the weather and his often inaccurate forecasts on the type of shots players may be attempting.
It's usually accompanied by a chuckle – but, as they say 'many a true word spoken in jest.'
I get the impression, Hay is fast becoming an outcast, though Torrance's stumbling comments are punctuated by long silences.
James has settled in nicely to the team with his lightning quick and incisive observations of dry humour.
A prime example came in today's early coverage when the background technicians accidentally showed a split second of fast forward motion of left-hander Mike Weir holing out.
"Looks like that group are on the clock," said James, quick as a flash.
Despite his occasional Mr Bean grin, Ken Brown is still excellent at explaining on-course situations knowing the vast majority armchair audience have never picked up a golf club in their lives. While the unflappable Beverley Lewis and Maureen Madill have been told to keep it simple.
I detect too, that Julian Tutt has learned his lesson after his recent spat with Colin Montgomerie and kept his comments to facts delivered at a whisper.
Steve Rider, continues to anchor in solid style from his buggy beside the first tee, while Craig Doyle helps out with the occasional interview, away from his usual beat reviewing exotic holidays.
He'll have to learn the art of incisive questioning, however, after being totally overwhelmed and embarrassed in the presence of Tiger Woods. It should have been a job for Dougie Donnelly promoted from patrol on the practice ground.
Having seen his ability to co-ordinate a host of on-course commentators while communicating with the studio and his director, I'm full of admiration for John Inverdale and his Radio Five Live crew.
A recent acquisition – Andrew Cotter a Troon native and single figure golfer, whose elder brother is caddying for the American Spike McRoy, is also making a name for himself, as are former Tour pros Paul Eales and Paul Affleck.
Iain Carter, a seven handicapper and the BBC's golf correspondent, is also a smooth operator, though prone to over excitement.
I'll reserve judgement on Peter Allen's contributions for the Five live Breakfast programme. He might be able to tie politicians in knots with a single figure handicap in topical interviewing but he's a hacker when it comes to understanding golf at the highest level.
Tell us what you think of the Open broadcasters on the forum.