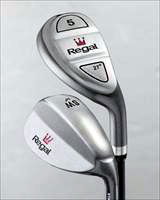 Regal EZ system irons
Price £199 (3-SW, graphite shaft)
Every week the Golfmagic forum gets visit from new golfers asking for suggestions on what to buy as a first set.
Should they buy something cheap and cheerful from the Donnay range (at less than a fiver a club) or dive in the deep end with a known brand and learn to adapt?
Somewhere in between and possibly a set of second hand clubs, used to be my advice.
Not any more. I've just discovered a set of nine new graphite-shafted clubs from County Golf Directfor less than £200 that would do justice to any mid-handicap golfer's bag.
I played yesterday with a scratch and a single figure golfer – both armed with the latest, expensive technology - but can report that I held my own with these Regal clubs, though they did get some odd looks from my playing partners.
The gun-metal grey, cast heads look much heavier than they perform, with a top line as thick as a railway line. But with their wide soles from 3-iron to sand wedge they were so easy to hit.
Indeed the longer and medium irons are built in the style of modern-day rescue clubs with a chunky, flat-soled profile that gets the ball airborne and doesn't dig in.
They're perhaps not quite as forgiving as the makers claim in terms of feel, but shots hit towards the toe end of the club tended to draw back into the target.
Around the green, the face of the pitching wedge was easy to lay on the ball for delicate chips, while the sand wedge reminded me of those Alien wedges that proved so popular successful in the 1990s.
For better players the soft, spongy grips might not be ideal – there's a tendency for the shaft to twist with more torque at impact – but for the newcomer they promote a comfortable feel at address.
As for the shafts, they performed consistently and generated a high but penetrating flight and more than enough spin to satisfy most control freaks.
The suppliers even claim these clubs will cure any trace of a shank. For some of us that's worth the asking price alone!
Verdict

I'd recommend these Regal E-Z System clubs to anyone taking up the game or considering moving up from a second hand half-set. At address they instill confidence, they're easy to get airborne and will limit those irritating 'fat' shots, thanks to the wide sole.
Golfmagic rating 8.5/10