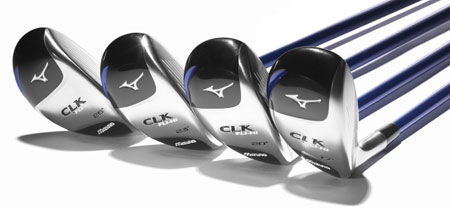 Mizuno's range of latest Fli-Hi CLK rescue clubs
Rescue clubs
The fastest growing section in golf equipment currently is in rescue and utility clubs. These are the small-headed 'woods' that are tending to replace long irons and fairway metals in the bags of millions of golfers.
It's a trend that started with the professionals on the Seniors (Champions) Tours who were presented with a range of wood-irons clubs to help them get the ball airborne and to reach and land softly on the longer, well protected par-4s, when they didn't quite have the power to do the job with 2- or 3-iron.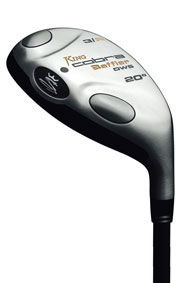 Cobra Baffler DWS




Very accurate in the hands of seasoned pros, they were also ideal for laying up on longer holes and reaching the 200-yard plus par-3s.

The idea quickly caught on with the regular Tour pros who discovered that a couple of what became known as rescue clubs in their bag, could replace a bunch of woods and irons and enable them to fit an extra wedge or two among their 14-club allocation.

Though Cobra had produced a Baffler some 20 years ago (and has recently introduce the Baffler DWS), it was Barnie Adams the ebullient founder of Adams Golf, who introduced small, square headed Tight Lies clubs with 2-, 3-, 4- and 5-iron lofts which, in the hands of the likes of multi-major champion Tom Watson, delivered a high floating trajectory and soft landing and also proved versatile for the odd chip from fringe grass.

But when Todd Hamilton used a Sonartec MD hybrid to win the 2004 Open, religiously using the club around the Royal Troon greens and to deliver a penetrating ball flight in the windy seaside conditions, the hybrid revolution hit the golf market.

Soon, almost every manufacturer was installing 'rescue' clubs into their range, though Titleist (508H utility) and Ping (G5 hybrid) were among the slowest off the mark waiting to see if the trend would catch on with club golfers around the world before investing in production.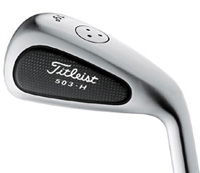 First Titleist utility 508H




So what do you need to consider when choosing a hybrid or rescue club, once you've decided how much to spend?

How much are they?

You can pay as little as £30 for a decent rescue club from one of the budget brands or as much as much as £140 for one of the major heavyweight names.

If you're a mid-handicapper and unsure of its advantages, it's worth considering a cheaper version at first to get a good impression of what it can do for you and where it might fit among your collection of the 14 clubs you're allowed in your bag before investing in a top brand with perhaps a better shaft.

You'll pay an extra £10- £25 for graphite shaft as opposed to steel, though you can have them custom-fitted for more.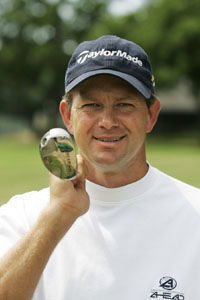 Goosen with his TaylorMade rescue
What do you want it to do?
For many of us, the utility or rescue club is a real shot-saver. It's far more versatile than a 2-, 3- or 4-iron because its wide sole helps extract the ball from semi-rough and even some primary rough far better than a long iron.
A long iron from rough, tends not to smother the ball at impact but with its weight set low and deep, the rescue head lifts the ball out on a higher trajectory.
It's also versatile around the green for chipping from fringe rough.
What will it replace?
As well as the 3-iron, which, strangely, still seems to be redundantly included in most new irons sets (though combination iron/hybrid sets are becoming more popular), it can replace the 4-iron and at least one fairway metal (3- or 5-wood).
It's versatility is most marked when the shot demands 3-iron length, with 5- or 7-wood ball flight. Usually, combined with its shorter shaft than a normal fairway wood, it's easier to control and therefore more accurate for lay-ups or landing softly on longer par-3s.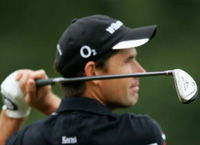 Padraig Harrington - uses Wilson Staff Dd-3 rescue
What loft and distance?
Distance is normally dictated by the loft which can be anything from 17-degrees (replacing 2-iron/4-wood) to 24 degree (4-iron/7-wood).
A 19-degree hybrid equates to a 5-wood and a 21-degree to a 3-iron.
So, for example if you hit a 4-iron on average 170 yards, the 24-degree version should give you that and upto an extra 15-20 yards through the air but with a softer landing because of its higher trajectory.
How much offset?
Most hybrids are quite significantly offset as they're aimed at handicap golfers who need a little help getting the ball airborne. However, some models (e.g Titleist PT 585H and Cobra Baffler Pro) are designed with no offset for the better player. Join in the current discussion on the forum as to whether rescue clubs are overrated.