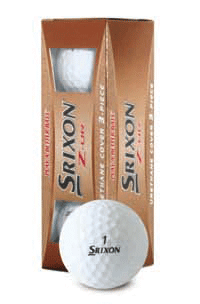 Srixon's Z-UR
Price: £40 (per dozen)
For Spaniard Miguel Angel Jimenez and South African Tim Clark, the arrival of the new Srixon Z-UR golf ball has coincided with their best ever form.
And that's no coincidence because the pair are going through a purple patch of accuracy, distance and control that has lifted their performances to the highest level. Both are in the world's top 50 players and will be using the ball at the US Masters next week (April 7-10).
But just because it's good for the pros doesn't always make a ball perform as well in the hands of club amateurs. We're less consistent with our ball-striking and our putting is often on greens that Augusta National would be too embarrassed to call semi-rough.
One-handicapper Adrian Ashworth, who will turn pro in September, handed a sample ball back after just one hole.
"Nah!" he said. "It's not for me. Okay, it flew well off the driver but it felt too firm for my taste. And it certainly felt much hard than the Pro V1 I usually use when pitching and putting."
I also offered samples to recent playing partners – Noel Manby – a 17-handicapper from Oakham, Roland Easson (16) from Greetham and his 14-year-old son Oliver, whose 'dangerous' off 22 handicap.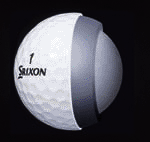 Cut-away of Z-UR




Noel felt the Z-UR added several yards to his driving and liked the feel off the clubface, while Roland felt unable to give a truly honest opinion after losing his sample ball shortly after taking temporary ownership.

However, he did putt tidily for a few holes and his driving was better than I'd witnessed for a while.

As for Oliver, his liking for the ball was reflected in his scorecard – his best ever round on Greetham's 'Valley' course.

"It definitely gave me more distance and it was nice to chip and putt with," he said. "Can I keep it?"

I gave him another as a reward.

Srixon claims the Z-UR features 'the largest and fastest Emergetic Gradient Core' it has ever produced. In layman's terms it comes hot off the clubface and with its unique 330 dimple pattern is claimed to be more stable in cross and head winds.

Certainly its thin cover gave it an explosive feel off the face but that's not always what you're looking for when faced with a delicate chip on greens recently impregnated with cigar-sized holes, dressed with sand.

And as for durability, while Messrs Jimenez and Clark have an unending supply and can discard them into the gallery after playing one hole, us lesser mortals would look for a little more mileage – at least two rounds, hopefully.

In this regard the Z-UR would score poorly. It scuffed up quickly, despite the soft conditions.
Verdict

If you're a Srixon fan – and they are generally very loyal to this family of products - the Z-UR will out perform the AD 333 but at £40 a dozen they're not made to last.
Golfmagic rating: 7.5/10