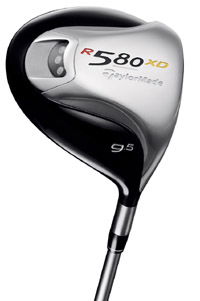 The R580XD driver.
Recommended Price: £349 (available RH 8.5, 9.5 and 10.5 lofts, LH (9.5 and 10.5).
Everyone, it seems, is looking for extra distance, most for more accuracy and many simply want a driver that makes even the miss-hits look good. TaylorMade claims to have found the secret to all three requirements with their two latest drivers in a string of new launches in the past two years – the R540XD and big brother R580XD.
Both have bigger heads and a deeper clubface, 'for greater distance and forgiveness' and with new soleplates, they say, 'create a deeper centre of gravity for improved launch angle and sweetspot.'
The facts reveal that the 540XD has a 400cc head and 45-inch shaft while the 580XD boasts a 440cc head and a lightweight 65-gram shaft that's half an inch longer.
At Golfmagic, we were given a 9.5 degree R580XD to sample and in truth, compared to my regular driver (King Cobra SS 430 Ultimate) I couldn't get on with it. I couldn't get it airborne with any consistency.
But it seems I was in the minority, because others believed it manna from heaven.
Glenn Sharpe, (5 handicap) one of my regular playing partners, who, when it comes to hitting a golf ball hard, doesn't spare it, was ecstatic about the club.
"Until today," he told me, "I was perfectly happy with every club in my bag, but that's no longer the case.
"From the first tee the R580XD hit the ball straight and very long – even longer than my 10.5 degree sprung-faced King Cobra SS 370. It had less loft than my regular club but it was easy to hit and it produced a good, penetrating ball trajectory. To compare the two drivers, I hit a second ball (Titleist NXT Tour) on three occasions with my Cobra - and the R580XD won every time!"
Stuart Robertson, a 29-year-old eight-handicapper from Olney, Buckinghamshire, describes himself as the 'lucky git' who won the R580XD driver as a joining prize in last month's Golfmagic competition. He was equally thrilled with its performance.
"It is superb, from anywhere out of the clubface, but I might need ear defenders when using it on the driving range in future," he said.
His only complaint was the sub-standard TaylorMade grip.
"Why don't they fit a standard tour velvet grip?" he asks.
Albert Royen from Maastricht in Holland sent in a user-review having tried several drivers, including the Callaway Big Bertha II.
"With a stiff shaft the R580 XD, carried 25 metres further, and having learned to tee the ball high, I cleared the two metre fence at the end of the 220-metre driving range. Even our pro had not seen that done!" he recalled.
"After that I went to the first hole and struck the ball straight down the middle (280 metres).
Verdict

Though I'm in the 25 per-cent minority, the R580XD, with its distinctive red, yellow, grey and black headcover, seems to do for most, excatly what it says in the makers' name – XD equals Extra Distance.
Golfmagic rating: 9/10

*Tell us your opinions of your own clubs in our user-review section. It could win you an Adams fairway metal from County Golf.