Titleist DCI 822Oversize irons
Price (3-SW): £850 (graphite shaft, £650 steel)
As a former devotee of the game of bowls – I took it up as a 12-year-old long before I picked up my first golf club – I know that once you've found a set of 'woods' to suit you, there's a tendency to stick with them for life.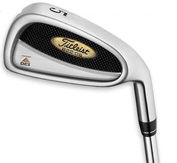 DCI 822OS - club for life.
Your grip hardly changes nor does the weight and strength of bias you prefer to deliver the bowl with a certain finesse up the green.
You become loyal to a set of bowls because you very soon learn that – unlike golf clubs – if you play poorly, you only have yourself to blame.
Apart from 'grip', 'green', 'woods' and the inevitable hand-eye-co-ordination to play the game at a reasonable level, bowls and golf have little in common, but I detect Titleist is hoping to create the same degree of loyalty to its own equipment.
Golfers who can afford to, regularly chop and change their clubs in search of the secret to lower scores, though the key to unlock the magic formula is more likely to be found in their own golf swing and attitude to the game, than it is in a particular driver, iron or putter in their hand.
However, Titleist is hoping that once a mid-to-high handicap golfer has locked on to its latest DCI 8220S irons, the clubs will carry them through to a decent single figure handicap.
By which time, instead of being tempted to switch to a rival manufacturer's blade, they will transfer to Titleist's own newly revealed DCI 762 flagship iron 'for the better player.'
Titleist originally launched the two new irons at a trade show in Marbella last October, when the St Ives-based company claimed it had raised the bar in terms of club performance.
The 822OS (Over-Size) irons, are aimed at the mid-to-higher handicap market, with offset hosel and game improvement features, including a longer blade and larger clubface – rated by Titleist as its 'most forgiving DCI iron yet'.
It was certainly that, with less of a tendency to chunk a weak slice when trying to play the low, punchy shots under the wind, I like to think are my speciality.
However, with the 'hands ahead at impact' style I prefer, I'm not a fan of offset heads in the 822OS shorter irons – most pronounced in the Ping and Callaway range – where my tendency is to hit fat or thin when a degree of finesse and check spin is demanded.
But that's merely a personal preference. I'm sure these practical-looking clubs that get the ball airborne quickly for the game-improver seeking that kind of confidence, will prove a big hit with those looking for a club for life.
Verdict
A nine-iron set (3-SW), with at least two more options for extra irons, will cost £650 for steel and £850 for graphite shafts and that might appear expensive by current rates but these are unfussy, high performance, quality clubs built to last.
Golfmagic rating: 8.5/10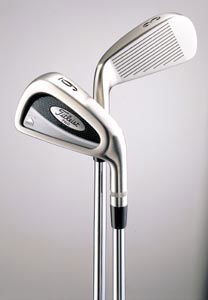 Aspirational DCI 762 club - with feel.
Titleist DCI 762 irons
Price (3-PW): £925 (graphite shaft), £595 (steel).
The DCI 762 replaces the DC1 990 as the flagship of the DCI family of irons and, says Titleist, 'incorporates thin face technology and a multi-piece carbon with a Mylar cavity insert to provide unparalleled feel, increased playability, and modern flight characteristics.'
Have to admit, I don't fully understand all that jargon and marketing speak, but I do know the reaction my 17-handicap son ('golf's about how far, not how many!') gave when he flushed the 3-iron at the first attempt.
'Oooooh! (as in 'Suit you, Sir') – never felt a thing and it went like a tracer bullet.'
The extra distance and penetrating flight trajectory could be down to the firmer True Temper Dynamic Gold S300 steel shaft in strong, young hands, but the progressive offset and re-shaped heads did produce a flatter more controlled flight, especially in the shorter irons.
But the main benefit was in the feel, which better players will find more noticeable as they tend to strike the ball out of the meat of the clubface more consistently.
Verdict
If you're a game improver, these clubs are not for you just yet. You will need to be more consistent and precise in your ball-striking to get the full benefit. But there's no harm in aspiring to them.
Golfmagic rating: 8.5/10
Have you tried -or even bought - either of these clubs from the latest Titleist range? If so tell us on the Forum.