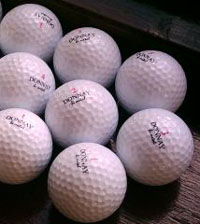 Donnay Pro One golf balls




Golf balls can become a minefield of information. While manufacturers bombard us with hyped up specifications about core, velocity and aerodynamics, our playing partners tell us their favourite brand is the best thing since 'a power fade' became the new 'sliced!'

I've tried to brush away the jargon and get to the nub of the subject. Hopefully Golfmagic visitors will now be able to speak with more authority when talking balls.

What you pay

Golf balls can cost you a small fortune - upto around £12 for a sleeve of three as used by the pros - or can cost you nothing, if you can find them in the long grass, under a boundary hedge or retrieve them from a water hazard.

Most of us will shell out £1 to £2 for a ball or even less if we're not too fussy and pick and mix from the Lake balls basket in the pro shop or buy them in packs of 15 or 18.

What you pay is what you can afford to lose. If you're guaranteed to keep it on the fairway and pretty straight, you can afford pay a little extra for a good quality ball that will keep spin to a minimum off the driver and therefore fly further, yet fizz to a stop with a lob wedge from 50 yards out.

It's also nice if it feels soft off the putter face and drops in the hole with regularity from longer distances.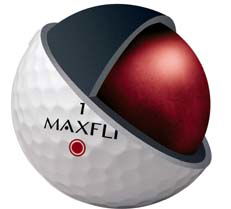 Cut-away of a ball
As a general rule, the harder the ball, the more vibration off the clubface and the less you pay for its services. It will go far, but go hard and it's a nightmare to chip and putt.
Pro balls
It used to be the case that professional golfers always used to use the soft cover balls that spin and suck on the greens. Pros were also able to work their magic with straight-faced clubs round trees with a fade or draw at will.
Not any more. Speaking to former US Masters champion and 2006 Ryder Cup captain Ian Woosnam recently he's still getting used to the modern ball.
Without going into too much detail about the core and cover of a ball, it's suffice to say that pro balls have the harder consistency of a cheaper club golfer ball to enable top players to blast them further. However they are also easier to spin and control around the green, chiefly because of the thinner yet still resilient covers stretched over them reacting with modern cores.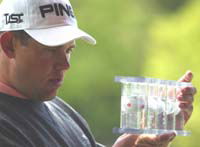 Lee Westwood examines the Wilson True ball




Unfortunately for some players like Woosnam, whose key skill was being able to a) hit the ball a long way with persimmon-headed clubs and b) create upto four yards of draw through the air, the modern ball goes further and straighter. It can make even the average driver look good and the good drivers, out of this world.

Flight characteristics

This is mostly down to the dimple pattern and aerodynamics. Thousands of man (and woman) hours are spent in front of a computer working out just how many dimples you can put on a spherical golf ball without losing performance.

I've seen balls fired mechanically from a robot striking machine that dive less than 100 yards straight left like a duck hook, because they lacked sufficient dimples.

Others will soar skywards because they had too many or weren't configured correctly.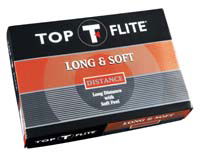 This Top Flite ball claims to be both long and soft




The tendency in modern balls is to make them to create a high launch angle from a straight-faced driver in ideal conditions, yet have a certain degree of penetration in the wind. Modern balls also deviate less in flight, so are harder to use for a player who likes to shape shots.

Durability

The pro doesn't need a ball to last – though there is a story, as yet unsubstantiated, that Sandy Lyle, once used for a whole tournament, one of balls Bernhard Langer cast aside after a couple holes!

He or she hits it pretty straight but also pretty hard and fast and when using the deep grooves in their wedges from tight lies in the fairway or from bunkers, a ball can quickly get a little worse for wear.

Shards of plastic will shave off the surface and reduce the ball's effectiveness, not to mention the chances of it getting out of shape under powerful, explosive impact with a clubhead.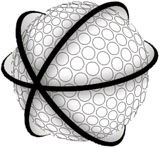 Aerodynamics are vital




What's the point of making it last when a manufacturer on the range is even prepared to pay you to use and endorse their product with an unlimited supply.

It's only the likes of you and I that demand durability. Sure we'll lose a handful every month but we expect a ball to last at least two or more rounds, especially if its one of those Top Flites, Molitors or Pinnacles where the protection is painted on a little thicker.

Where to get the best deals

Our best advice is to shop around the stores and websites. There are so many balls out there, we're spoiled for choice and as Golfmagic members have often told us, some of the original packs and brand models from two to three years back, still stand the test of time.

Why so many balls?

You have to realise that leading brands have to answer to share-holders who demand constant investment in research and development as well as worldwide marketing activity to keep products in the public eye.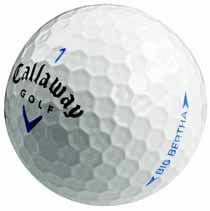 Callaway's big Bertha Blue ball




That's why there's always a fast-turnover in products – not just balls – but clubs, shoes, bags and clothing – so the brand can be seen to be keeping up with and ahead of its rivals.

The Dow Jones, Nikkei and FTSE 100 index should be investing in grass roots golf as well as encouraging golf club innovation.

Sell by dates

Golf balls don't really have a sell by date – not enough for the average golfer to detect anyway – such is their high quality craftsmanship and packaging.

Most of our commercial partners have excellent deals where you can often buy a year's supply of good quality balls for under £50.

Which ball suits you?

As I've explained it's mostly down to personal preference and brand snobbishness.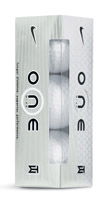 A sleeve of balls can cost upto £12




You'll pay more for a top of the range Titleist, Maxfli, Nike, Callaway or Srixon but even for single figure golfers, a Pinnacle Exception or Top-Flite XL are perfectly acceptable to maintain your skill standards.

How courses can dictate the right ball

Much depends on the course you play most regularly in finding a ball most suitable for you.

Common sense dictates that if the greens are small and well protected you need more control from your approaches, so a performance ball that imparts more spin is more appropriate.

If you play on one of the wide-open, treeless course we find on the edge of the Fens, a distance ball would probably be the one to choose, especially if the greens are large, too.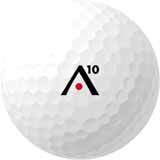 Maxfli's A10 – still one of the best two years after launch




There's a compromise, of course – a ball that flies far and spins when you want it, might fit a lush parkland course with well-protected greens or a seaside links.

Compare two balls in one round

As we've said before, if you're unsure, ask your pro to select a hard and a soft ball from his stock and test one against the other's performance for nine holes. You'll either be convinced by one or totally confused!

With balls…as with most things in life – you pay's your money and takes your choice.

*Tell us about the balls in your bag - as well as the clubs, shoes, waterproofs – by submitting a user review

And if you've got equipment to buy or sell second hand you can do that too, in our unique classified section.