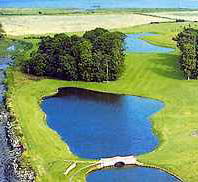 Waterford Castle
It was midnight Sunday and as I was waited for the 'Red Eye' ferry from Fishguard in Wales to Rosslare in Southern Ireland the only other sign of life was a small group of golfing press.
We were off to sample the bargain three-day golf pass, featuring Waterford Castle, Faithlegg and the prestigious Mount Juliet golf courses – a whistle-stop tour of three of Ireland's finest tests.
At 1:30 am on May Bank Holiday Monday, the incoming ferry jettisoned its flotsam, including a group of lads from the Welsh Valleys who had challenged the Irish to a Pool and Guinness drinking competition and had obviously lost both… badly!
Our pre-booked cabins offered a few hours refuge and sleep before we docked and headed by coach for our first tee off at 9am at Waterford Castle a course set on an island estate in the middle of the River Suir, reached by a chain ferry.
The clubhouse was most welcoming, with great coffee and a full Irish breakfast, and tiredness evaporated into anticipation of playing the first course designed by former Irish Ryder Cup hero Des Smyth.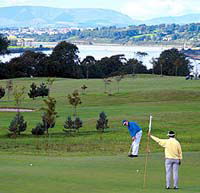 Spectacular Faithlegg
Holes of note included the third, with an initial carry over water and an interesting challenge having drowned my ball on the previous par-3. The par-5 13th also had many fairway bunkers to gobble up a sliced drive.
The rest of the course was set up with hazards that were cleverly positioned but it was a shame that good approaches to unreceptive greens were not as well rewarded as poor shots punished.
We adjourned to the bar for the first of many 'Guinnterludes' and travelled back with our driver, the appropriately named O' Reilly, to our base at the Tower Hotel in Waterford town where we enjoyed a a splendid meal and late night hospitality.
Gales were forecast for our visit to Faithlegg Golf club but though they threatened, they failed to materialised and we played this neatly maintained course. The course - which has hosted major events including tournaments on the Evian Ladies European Tour - is the pride of director of golf, Darraugh Tighe, who joined us for 18 holes.
I loved the 13th and 14th, back-to-back par-5s with views of the river, which rewarded accuracy rather than power. The 8th also needed a carefully positioned tee shot avoiding a large tree on the 'Tiger line' and more woodland guarding a narrow approach to the green.
The greens were in fine condition and received a well-struck approach with little more than a hop and a stop.
The compulsory Guinness break was followed by a one-hole knockout competition against the club pros in which I walked off with 'Shot of the day' – wedge effort from a grassy lie which slid under the ball without touching a dimple. I felt such a prat!
Our trip to Mount Juliet which again stages the American Express World Golf Championship in September – complete with Tiger Woods – was eagerly anticipated. And we weren't disappointed with this jewel in the crowd of South East Ireland golf.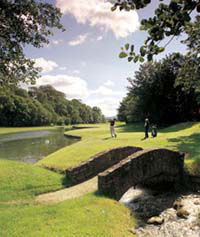 Mt Juliet – jewel in the crown
The drive up to the clubhouse whets the appetite, with tee boxes that looked as if I could have ironed my creased shirts on them. The clubhouse is a shrine to the elite that have played there, while the locker room has brass nameplates for the top pros. I put my kit in Mike Weir's locker but no one used Colm (the Irish spelling) Montgomerie's locker. Tiger's nameplate had been removed - or nicked!
Each hole is a visual treat but very difficult, particularly off the back tees into a strong wind. The par-3s stood out, particularly the third, demanding a carry over a 170-yard over water. The 11th reminded me of Augusta National's 12tt, with an elevated green above a lake fronted by a bunker.
Similarly, Mount Juliet has many stone bridges crossing ditches and streams, adding to its appeal. Yardages are etched into fairway sprinklers, with one, well out of range for the average mortal, amusingly identified with the message 'Dream On'.
The course will be in prime condition for the world's best later in the year, but during our visit the greens were being top-dressed – hence the puffs of sand on approach shots that didn't hold the firm greens. And some fairways had drainage work settling in and divots were left unrepaired.
One surprise Mount Juliet had up its sleeve was an amazing putting course, a sort of millionaires' crazy golf on pristine greens. Each hole is made difficult with undulations that can send the ball down banks into water hazards or mini bunkers if not deftly tackled.
Single putts are rare, if not impossible and you have to plot your way to each cup carefully. Some holes even have a par-4. Laughter echoed long and loud around the walled garden.
The three courses I visited can all be enjoyed on the Three Course Golf Pass to Ireland for the price of 165 Euros (about £100) which includes three midweek green fees (15 euro supplement at weekends).
The 3CGP is valid until March 31, 2005 and represents a considerable saving for those wishing to enjoy the great parkland estates of South East Ireland. For more information call free-phone 0800 0569058.
We stayed at the Tower Hotel in Waterford but there are also plenty of bed and breakfast establishments in this tourist area.
If you want a typically Irish golf trip, where the play is both fun and competitive and where Guinness flows – the 3GCP is hard to beat. Cheers!
If your interested in golf abroad then take a look at our Travel Partners who specialise in golfing breaks to European and Worldwide destinations.