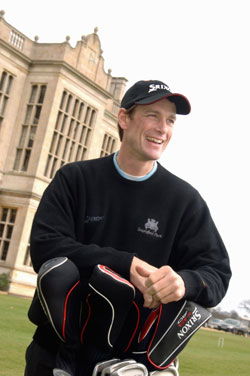 Jeremy Dale - novel way of teaching
Golf trick shot king Jeremy Dale, has more to him than amazing golf shots – he's teaching people to 'play bad golf really well.' His one-day Scoring Schools, have proved an effective alternative to making drastic changes to your swing.
Since launching his schools at Stapleford Park Country House Hotel, near Melton Mowbray, Leicestershire, many golfers looking to improve their game and shave shots off their handicap have found the innovative lessons of real benefit. More are planned for July through to October -
Dale's unique combination of creative golf expertise – demonstrated in his trick-shot shows – and his psychological approach use simple mental strategies to harness positive attitude and course management skills to help improve your scores.
"I believe our profession has got it wrong in the way we teach golf," says Dale, who qualified as a PGA professional, having already gained a degree in psychology at Sussex University.
"I think we spend too much time trying to change a golfer's swing and making things unnecessarily technical and complicated, when it can actually be straightforward."
Scoring schools are taught in groups, with a maximum of six golfers including women-only courses - and each scoring school starts with an introductory session revealing the importance of the short game and course management, before moving outdoors to work on simple, fun strategies to get the ball in the hole in less shots.
Commented 13 handicapper Tom Harrison: "Three days after attending Jeremy's school, I won my next club competition and am still marvelling at the immediate impact he had had on my game."
Added Adrian Davies, now a 12 handicapper: ""Jeremy's coaching style is both highly effective and easy to put into practice. My handicap has come down six shots in under a year. Scoring Schools 2008
Schools dates: July 26 and 27; August 10, 16 (Ladies only),17, 28 (Ladies only) and 30; September 14 and 28; October 19 and 26.
For further information call 07748 307 849 or visit www.jeremydale.com where you can also see a video of Jeremy in action.