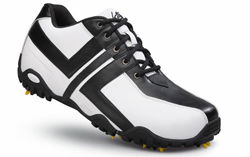 Crowbar shoes from Bite
Recognised as 'the most comfortable golf shoe in the US' by Darrell Survey, Bite is launching some new designs for 2008.
Fitted with Bite's unique orthotic insoles for extra comfort among golfers who suffer with problem feet, the new additions include the cool-looking Crobar (black/white) and Crobar Velcro OS (black), each featuring an Ortholiner designed to customise the shoes to each golfer's individual requirements.
Made from top grade premium hide, the shoes have fast-twist Softspikes and a one-year waterproof guarantee as standard.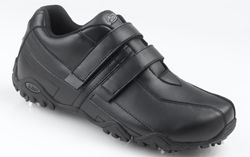 Crowbar velcro OS shoes
The Crobar and Crobar Velcro OS are available in UK sizes 6.5 to 14, with a recommended price £99. The Crobar OS features Velcro fasteners making them quick and easy to put on and take off. an
The full range of Bite shoes - including the Orthosport models (Biofit, Biosport and Biolite) start from £49.99 and include a comprehensive range for women.
*Tell us which golf shoes you wear and which you find most comfortable, as well as the clubs in your bag. Submit auser review for the chance to win prizes every month.