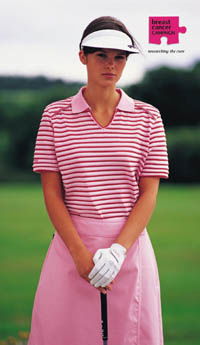 Ping Collection - campaign awareness




The campaign to eradicate breast cancer is gaining momentum much of it focussing on golf, which tends to attract a target audience generously prepared to support the charity.

Also breast cancer has a habit of effecting women at the age when they are just taking up golf in their 40s or fall into the category of the average women members of golf clubs (55-64), according to a recent LGU survey.

So it's no surprise that at least two major golf suppliers – Ping Collection and Cleveland Golf - are helping the cause by supporting the Breast Cancer Campaign.

Ping Collection is offering a complete men's and women's golfing wardrobe of clothing for the golf club that raises the most money for BCC's £100 Challenge this year – including waterproof suits, tops shirts, trousers and sweaters from the Spring/Summer range.

Ping Collection already gives the charity £1 for every women's polo it sells from its Spring/Summer '06 range. To register for Challenge Colin Norford, community development manager on 0207 749 3731.

The new W-Series CG11 wedge for women from Cleveland Golf comes with a prominent pink plaque, indicating both that the club is designed for women and that a portion of the proceeds from its sale will be donated to breast cancer research.

The wedge also marks the first time that Cleveland Golf has incorporated its revolutionary CMM metal into its women's line, too.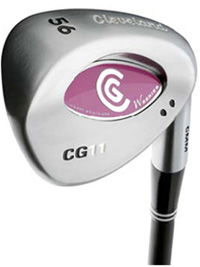 Cleveland W-Series wedge
"The prominent pink plaque on the W-Series CG11 will turn heads but performance is also what sells it," says Cleveland Greg Hopkins.
The W-Series CG11 wedges feature a slightly larger sole that is wider towards the heel and toe and narrows in the centre. Weight is also redistributed to the perimeter of the clubhead to create a 'stability chamber' to help improve impact even with off-centre hits.
The W-Series CG11 wedges come with a precision milled face and U-grooves and will be available in March.
*Tell us what equipment you carry in your bag - including the irons, driver, balls, putter and glove – by submitting a user review. We've got prizes to give away every month.
And if you've got equipment to buy or sell second hand you can do that too, in our popular classified section.