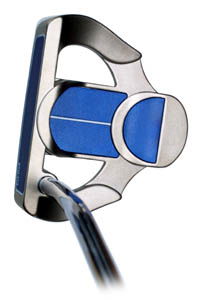 Ping Craz-E – look familiar?




Determined to re-establish themselves as 'high rollers' in the putter market, Ping and Callaway have introduced new models in the top price bracket.

Ping's Craz-E is an E-shaped design made successful by the Odyssey 2-ball and Scotty Cameron Futura and costing £125, while Callaway has re-introduced its own brand with three new Tour Blue models, each costing £279.

The Craz-E, comes from the G2i insert family designed launched last August and with a geometric shape with weight placement near the heel, toe and rear of the putter to encourage a simple pendulum stroke.

"Our engineering team enjoyed the challenge of applying our proven technology to a completely new-shaped Ping putter," says chairman John Solheim. "The combination of the weight distribution and the use of the lightweight urethane inserts in the face and flange allowed us to eliminate unnecessary material while maintaining the solid feel golfers expect from their putters.

"We also focused the design around creating an optically pleasing putter. We had some fun with the name. It's kind of crazy looking for us, but it performs to our high standards and we're confident the putter's performance and unique look will result in a lot of golfers making a lot of putts," he added.
Their rival's new series of milled putters are the first since 1999 to carry the Callaway name and have been in use by players on Tour ready for public distribution next month.
Says Callaway's Ron Drapeau: "We positioned dense tungsten weight inserts into the sole of the titanium putterhead, where they help to produce a true roll and better accuracy."
Each of the three models – a heel-toe blade (TT-1), scoop blade with offset hosel (TT-2) and face-balanced mallet (TT-3) starts as a block of pure titanium, which is blended with the inserts to help create a lower centre of gravity for better roll and less skidding.
The deep blue and gold colouring also helps reduce glare, say the makers. All three models will be available in lengths from 33 to 36 inches in right-hand only.
*Ping has also added the Piper H to its G2i putter series. The mallet-shaped head features a heel-shafted, blade style hosel with a blue insert and grip. Likely cost from March is £100.