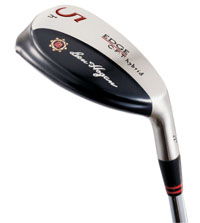 Hybrid – equivalent to 9-wood
Utility irons and rescue woods – a cross between fairway metals and long irons – have become perhaps the most popular innovation in the club golfer's bag over the past three years.
Now the Ben Hogan company has introduced Hogan Edge CFT hybrids which bridge the gap between driver and medium irons and include Speed Slot technology which they claimed to have introduced 40 years ago.
The clubs are longer than a typical long iron, for added distance, but shorter than your average fairway metal for increased control, say Hogan. The 'Speed Slot' feature provides drag for more clubhead speed and accuracy.
The two-piece construction of the hybrids features a stainless steel frame with a compression forged titanium (CFT) face, to move weight from the face to the sole for more forgiveness
Lofts for the hybrids are 17 degrees (No.1 hybrid equivalent to 1-iron), 19 (2h – to replace 2-iron or 4-wood), 21 (3h – 3-iron or 5-wood), 24 (4h – 4-iron or 7-wood) and 27 (5h – 5-iron or 9-wood). Clubs are available in men's right-handed versions with in both steel (£80) and graphite (£100) shafts.
For more information visit www.benhogan.com or call 01954 786600 for your nearest stockist.