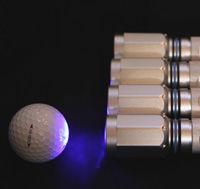 Balls attract UV light
I've heard of golfers looking like they may have got dressed in the dark (with a certain lack of colour co-ordination) but until now I hadn't realised that some of us might go to the extreme of looking for our balls in the dark.
But it seems that many of us are prepared to play in the gloom with the help of artificial light to ensure we make the very most of our restricted time on the golf course this winter.
And British innovators Golf Bright UK are currently promoting a unique flashlight for the golfer who has almost everything and wants to hang on to his balls as long as possible.
The company has developed the GolfBright ball detector (£29.95), a UV torch designed to find golf balls hidden in the rough, undergrowth and even in the edge of water hazards - in early morning gloom or in fading light.
Claimed to be the 'only golf-specific flashlight on the market', it features ultraviolet (UV) light-emitting diodes that react with the pigmentation of the golf ball's dimpled white cover.
When the beam of the torch shines on the golf ball it glows brightly, in low-light conditions and even in the shade of bushes and trees.
Aussie Ben Champion, head pro at Asquith Golf Club claims the torch, invented by amateur car mechanic Brian Davis, is a revelation.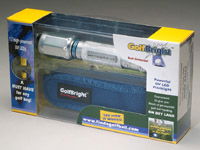 Golf Bright – yours for £30




"I was blown away. I couldn't believe how brightly lost balls glowed when caught in the beam. It's the best golf accessory I've seen in the last ten years."

"We've already conducted multiple studies at dusk and in dense cover," says Davis, who claims to have once found more than 30 balls in a half-hour period.

"I'm hoping the torch will not only have a direct impact on the efficiency of the game, but will also improve a player's score," he says.

The question now arises: Is it legal?

And certainly, using an electronic instrument to find a ball which transmits a signal is certainly against the Rules of Golf (Decision 14-3/14). But the R&A's Rules don't list a torch as an artificial aid (Rule 14-3) - any more than a telescopic ball retriever.

It remains to be discovered if UK golfers, playing in our dwindling light conditions during the winter months are prepared to add a torch to the multitude of gadgets and gizmos we currently carry in our golf bags to gain even the slightest advantage.

Tell us on the forum the most obscure golfing aid you've ever purchased.