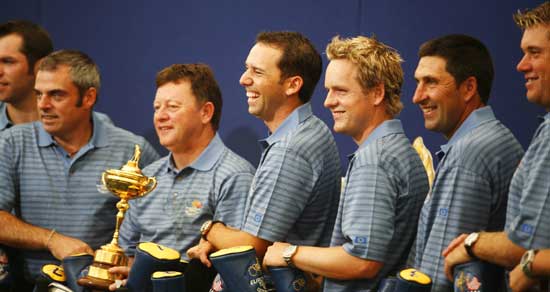 The 2006 Ryder Cup players in Glenmuir clothing. Expect something quite different for Valhalla
The European team's Ryder Cup captain, Nick Faldo, wanted a specific sport-fashion look for this year's players and preferred supplier Glenmuir worked for more than a year to develop a wardrobe for the team to not only look great but carefully selected to perform in the heat and humidity of the Valhalla course in Kentucky.
Although the exact shirts and sweaters that will be worn by the European Team are being kept under wraps until the matches begin, Andy Bough (pictured top left), marketing director of Glenmuir, has been talking about the type of look Faldo wanted to create, to give Europe a performance as well as a fashion edge.
When did Glenmuir begin the design process for the European team?
I first met Nick at the BMW Championships at Wentworth in 2007 and took three sets of information for him to consider – a colour spectrum, which pretty much shows all the base colours available, a shadecard, which then shows different variations of those colours and some fabrics.
Even at this early stage, it enabled Nick to assess colours and combinations he liked – and those to avoid.
Glenmuir uses a lot of different weights of fabrics in its entire range from shirts to knitwear, so there were plenty of samples. We also looked at photographs and samples from previous teams' outfits which all helped tonarrow down the 2008 look.
How did this develop?
The next key meeting was at the Seve Trophy at The Heritage in late 2007 when we wanted to pin down design and colour combinations. We went armed with a design pack with 10 or 11 colour ideas (we call them stories) and from that we would create six outfits for six days (including three practice days).
Nick was able to map out the shirts and knitwear designs and colours he liked and we were able to fine tune.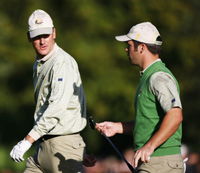 Karlsson and Casey - in action at the K Club




We met again at Orlando in January to agree details like designs and branding with full drawings of the garments. Throughout the whole process Nick has been very decisive.

So what designs have been used and why?

Nick was very clear that he wanted a fresh, modern look for what is likely to be a young team [maybe this was an early clue to his thinking in terms of his wildcard picks? ED]. He was very keen that the design of the clothing matched the nature of the players and that is the right approach.

All the Ryder Cup captains we have worked with – including Sam Torrance, Mark James, Bernhard Langer and Ian Woosnam – have had a very clear picture of their team and the attributes of the players.

They understood that making sure the players would feel comfortable in what they were wearing was a key requirement in the design process. The look for this year's European Team is very sport fashion – very sport technical.

Can you reveal more of his reasons and suggestions?

The likely weather and humidity at Valhalla in September definitely played a part in the decision-making over fabrics. We expect it to be quite warm so the designs have been selected to ensure the team looks good, feels good and is able to perform in those conditions.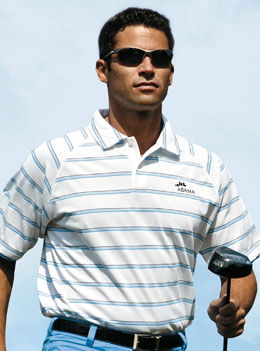 Coolmax style in Glenmuir's Performance Pro shirts
The shirts will feature the Coolmax Performance fabric because of its exceptional moisture-wicking properties and its UV protection. For the sweaters, we chose a very light Pima Cotton fabric, which is both breathable and has a soft and lustrous finish. The physical performance of the shirts and sweaters in the conditions the players are likely to face was a critical factor in selecting the fabrics.
How is this different to previous years?
Every Ryder Cup is different but traditionally we have gone for a top quality cashmere sweater as it is the ultimate in luxury golfwear. We couldn't do that this time.
Also, the weather dictates the size of the range too. For example, in 2006 at the K-Club, we knew the weather could be very changeable so we had to offer Woosie a large range of clothing – with multiple layers. This year, we still had to offer a range of clothing, but not in so many layer options.
How will the team look?
We are delighted with the final wardrobe; the team will look great. Nick has an obvious passion for the Ryder Cup; I didn't expect anything else. He was very clear that he wanted a consistent look for everyone connected with the team – players, caddies and other support people. In Nick's mind, the team isn't just the 12 players, it's everyone who is involved.
How have you dealt with sizing issues?
Most of Nick's leading players were at the BMW Championship in May so we were able to give size samples to all the key players, but the process is obviously ongoing because of the way the team is selected. We work to a standard size set – because working to a unique size block for each player would be nigh impossible – but from time to time we can introduce elements of tailoring for a player, if he wants it.
Are there specific reasons why Nick chose certain colours?
I can't talk about specific colours, because that would take away some of the excitement created when the players walk out on the first tee on the first day. But all Ryder Cup captains have their preferences and Nick was no different.
He was very conscious of the fact that if players look good, feel good and are comfortable with what they're wearing, then they'll play better. I can safely say there won't be any surprises – don't expect anything like [what the Americans wore] Brookline in 1999!
We looked at various reasons why certain colours work better than others – for example, the state flag of Kentucky is very similar to the European flag. That certainly won't do us any harm – in fact, it might even be an omen!
Has Nick consulted any senior players about what they liked and didn't like?Some captains do, but to my knowledge Nick hasn't. I think the players trust Nick – and they know his attention to detail in every aspect of being a leading golfer and he won't let them down.
Footballers in the World Cup have stars on their kit if they're former winners. Will there be any special design touches for the European team?
We have looked at the European Team branding a little bit differently, but we haven't gone into specific detail. Besides, every European Ryder Cup team is unique – a one-off team – so the number of times we've won or the number of caps each player has, is not what it's about.
At Glenmuir, who designs the actual clothing?
I manage the process with Nick and the European Tour and liaise directly with our designers. All our staff are very closely involved with the project, from the buying team, which sources the fabrics, to our suppliers and technical staff. It's very much a team effort.
What does it mean to Glenmuir to be designing the European team kit?
Everyone at Lanark is immensely proud to be involved in the greatest team event in golf and to be clothing Europe's elite golfers. Most people in our business have some input into the process so there is a great sense of ownership and pride.
Our enjoyment and pride comes from the moment the players walk on to the tee and we will be rooting for them, naturally. If they do win, we'll be as proud as the rest of the nation.
Will golfers be able to buy replica kit?
They will, but not in vast quantities. We don't manufacture specifically for re-sale. But from a logistics point of view, we can't just manufacture 12 of everything so we make more than is required. That 'surplus' will be made available to the public – probably online. Of course, golfers can buy official Valhalla 2008 merchandise now, with the official Ryder Cup logo so they can show their support to Nick and the team.
Does success like that have an impact on sales?
We view our association with the Ryder Cup team as a balance between sales and brand enhancement. The key thing for us is the longevity of a relationship we've had since 1987. We have a long-standing partnership with the Ryder Cup committee and team and because of the global nature of the competition – and the brand awareness that gives us – we're confident it does have a positive impact on sales of general Glenmuir products as well as official merchandise.
How will you know if you've done you're job right?
Previous Ryder Cup teams have gone very much for the 'classic luxurious' look. This year, the brief is for a more 'sport technical' appearance. If we achieve that, then we'll have done our job for Nick and the team.