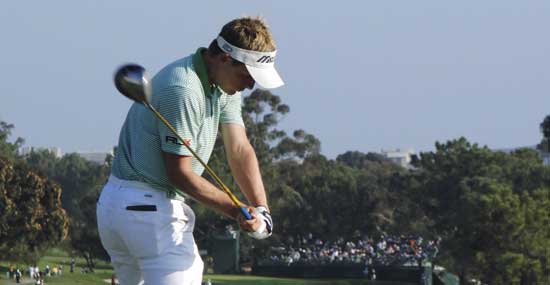 Wrist at risk: Donald in action at the US Open when he injured his wrist
Luke Donald is facing a career-theatening wrist injury and must make a crucial decision this week - whether to rest, have treatment, then play on or risk surgery that could put him out of action for three months.
The Englishman and RBS Ambassador, based in Chicago, who until recently, was a regular fixture among the world's top 10 players, revealed this week that he has damaged some connective tissue in his left wrist which holds one of the tendons in place.
"For for the anatomically-minded, it's the Extensor Carpi Ulnaris (ECU) tendon which is damaged and it's allowing the tendon to slip out of place. You could say that the tendon is 'dislocating'," said the Mizuno staff player.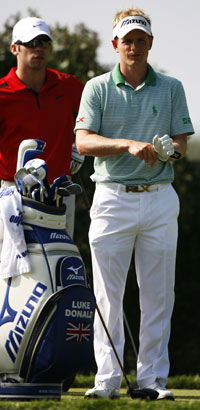 Donald with Ryder Cup team-mate Paul Casey at the US Open in June




"In the next week or so, I will have to make one of the biggest decisions of my career as a result of the injury which I suffered during the final round of the US Open.

"I'm nearing the crossroads where, if the injury does not improve, I will have to decide whether or not to go ahead with surgery. The alternative is simply to give my wrist more time to heal, and continue with the rehabilitation therapy which I have been doing over the past few weeks.

"It's a huge decision for me because if I go for surgery next week, then I certainly would be out for at least two to three months which would take me through to the middle-to-end of October. In effect, I would miss the rest of the season."

He says it may be worthwhile waiting to see whether the rehabilitation process works but would still have to set a cut-off date where, if the injury has not healed, he would opt for surgery.

"It has all been hugely frustrating, and missing the Open and the US PGA and possibly missing the Ryder Cup are all very disappointing. It is particularly annoying that this has happened to me in a Ryder Cup year," said Donald who has kept Ryder Cup captain Nick Faldo updated on his progress.

"It is difficult to find positives in this experience but I am trying to do so. In the weeks since the injury happened, I have spent most of the time in the UK, doing a lot of trips into London for therapy. I have been concentrating on getting physically fitter though I don't think the injury was due to my fitness level, as I have good stamina and have worked out a lot over the years. But you can always be fitter and healthier, so I've been doing a lot of work, especially on my body alignment."

"I found out that if you train your body to get into correct positions, then you can certainly improve your overall alignment and that can make you less prone to injury."

Donald adds that it will be an added frustration watching his Tour pals competing in the US PGA at Oakland Hills.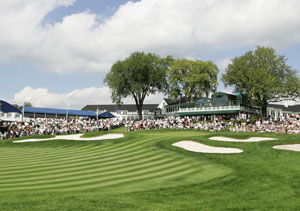 The crucial 18th hole at Oakland Hills




" It will be a very tough challenge. I played in my first Ryder Cup on the course in 2004 and it was a tough test then and I believe they've made it even tougher. I am sure it will be another major in which par is a pretty good score, which seems to be something of a trend at the moment.

"The 18th is one of the toughest holes in golf, a long par four which doglegs to the right to one of the most severe greens you will ever play with a big hump right in the middle. It will be interesting to watch the leaders coming up to the end on Sunday when perhaps they'll have to make a par to win."

So who's his tip?

"With Tiger Woods not there it's wide open. Phil Mickelsen will be among the favourites but I wonder if he'll remember that tee shot at the 18th during the Ryder Cup in 2004 when he hit the ball almost out of bounds. I'm sure Tiger won't!"

"Another contender will be Padraig Harrington. I was pleased for him at Royal Birkdale because it is very difficult to defend a title. He also had a wrist problem but said it might have been to his advantage in a way, because it took a lot of the media pressure off him. Fortunately his problem cleared up, unlike mine and he played great and figured out how to win."

Donald added finally: "If someone had offered me six months off without missing the events that I have missed then I might happily have taken it, but this was not the way I wanted to get myself a break. My aim now is to come back refreshed and in a better overall condition. I just don't know when that will happen."