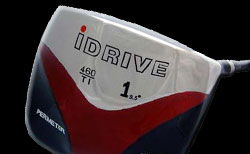 Integra i-Drive square heads
Imitation, they say, is the sincerest form of flattery. And when it comes to the much-anticipated square-headed drivers, it's also good for business.
And while Callaway, with its sleek FT-i and Nike, with its SasQuatch Sumo2, already a winner on Tour in the hands of KJ Choi, are not expected to launch their clubs until February, one less well-known brand has a similar club available now.
I spoke this week with Vinny Ball, from Integra Golf UK, which this week received a new batch of its latest i-Drive square drivers ready for the anticipated surge in interest in a club that claims to combine distance with accuracy.
He agreed that the technology for these futuristic drivers, has been around for many years, but engineers were more obsessed with creating length within the regulations of head size and face flexibility than they were with accuracy.
Now, it seems, the boffins are able to claim both length and accuracy by changing the head shape from the rounded pear to the soft-cornered square, re-distributing the MOI (moment of inertia) to prevent the head from twisting at impact.
"The main advantage of square-headed drivers is their stability," said Vinny. "It enables the engineers to get the weight further back in the head and into the corners and this helps reduce the twisting in the shaft. From those we have produced we're already getting good feedback."
He agreed that the i-Drive could be described as a copy or a clone of those expected from the better-known brands but denied they were 'knock-offs' - clubs that are imprinted with a famous brand logo but are made of inferior material.
"Yes, we're jumping on the bandwagon with square-headed technology but they all come out of the same foundries in China and at Integra we feel we can produce better value for money."
Neither the Callaway FT-i nor the Nike SasQuatch Sumo2 are expected to be available for much under £400.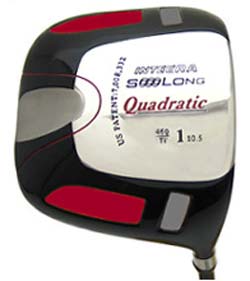 Integra's SooLong Quadratic driver




The i-Drive with its 460cc head made from Forged Beta Titanium and with a contrasting red sole, costs £129 plus £10 delivery and is available in 9.5, 10.5 and 12-degree lofts and with matching 'magnetic close' headcover. The UST graphite shaft is available in stiff, firm, regular and Senior flexes, with three grip size options.

Integra also plans soon to launch its square-headed SooLong Quadratic driver, complete with graphite crown, for £150. Among other clone drivers are the Turbo Power XQ MUTO 460Ti and SV3 (both Nike Sumo2 clones) and Final 460 (Callaway FT-i clone) available for between £60 and £80.

So which of the other big brands could also be producing square drivers in 2007?

TaylorMade has already denied it's in their plans, preferring their moveable weight technology to give them the edge in forgiveness and stability, while Titleist with its 907D1 (triangular) and D2 (extended pear-shape) is comfortable with its own futuristic shapes for 2007.

However, the word on the street is that both Ping and Cobra are looking closely at the new square technology with a view to new products later in the year.

Tell us on the forum...Would you buy a clone of a major brand? Or have you already? Have you been duped into buying an inferior knock-off purporting to be a major brand?