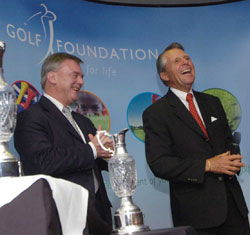 No laughing matter: Gary Player receives his Golf Foundation award from fromex-European Tour boss Ken Schofield
You can always rely on Gary Player - perhaps peeved at being out of the public eye for at least 12 months - to throw in a googlie when The Open Championship returns to the spotlight.
This time, the man in black, also known to many in the media as Mr Rent-a-Quote, set the hacks and officialdom back on their heels on a slow news day with the revelation that he was convinced that 'golf has a drugs problem.'
Perhaps he should have mentioned his fears hours earlier in Dundee when he was presented with 'The Spirit of Golf Award' for his 'services to the game and his long-term championing of the cause of junior golf all over the world' by the Golf Foundation.
What better place to give a warning to a representation of the UK's best golf prospects and their mentors about the dangers of drug abuse.
But no, he chose to wait until a handful of journalists, seeking shelter from the Carnoustie weather in the giant press marque and desperately looking for the odd 'deadline headline', to reveal that two undisclosed golfers had told him they were using 'something' (possibly human growth hormone, creatine or steroids) to improve their chances to moving closer to Tiger Woods up the world rankings.
The 71 year-old South African legend who has won nine majors, including three Opens (appropriately one in 1968 at Carnoustie) claimed that he thought ' a hell of a lot more than 10' were taking banned substances to hit the ball further and compete at the highest level.
He also criticised the PGA Tour - and to some extent the R&A - for not introducing a drug-testing programme earlier, even though the European Tour and the women's LPGA Tour in the US had already revealed that a planned programme on drug testing would be enforced from 2008.
So what constitutes performance enhancing drugs in golf? Is it the odd snort of Vick's First Defence, a fast-acting nasal spray to keep a cold at bay? Is it HGH to keep us looking as virile and healthy as Sylvester Stallone? Or is it even a pack of cigarettes or a cigar on the course to calm the nerves of John Daly and Angel Cabrera or Darren Clarke and Miguel Angel Jimenez?
Maybe Player is referring to beta blockers - famously taken by some professional snooker players to slow down their heart rate when potting the black - but unlikely to improve the chances of a top player looking to keep a drive in the fairway, or send a long iron into the heart of a par-5, surely?
Players heart - and there's no denying his own strength and fitness regime of '1,000 sit-ups a day' - may be in the right place but I feel his comments are misinformed and misguided and their timing a cheap shot on the eve of the world's greatest golf tournament in a bid to raise his dwindling profile.
I'm convinced when the authorities finally introduce drug testing, golfers will be found to be merely athletes, doing the best they can through fair means and determined work-outs, to reach their goals.
Tell us on the forum what you think. Are there players improving their performance unfairly? Do you take anything to lower your scores?