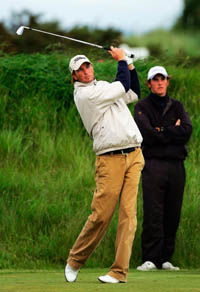 Eric Ramsay in action
Scot Eric Ramsay (25) has extended a long list of Carnoustie men winning major titles over many decades by claiming 100th Australian Amateur Championship at Royal Melbourne.
Ramsay, a semi-finalist in last year's British Amateur and member of the Carnoustie Golf Club, defeated Australian Andrew Tampion, 6& 5 in a 36-hole final, staged over the famous West course at the Victoria links course.
He follows Jack Doherty as the second Scot to win the title in the last three years, and also joins an impressive list of Carnoustie golfers who have tasted international success overseas.
A plus-4 handicapper, he began his quest to win Australia's most prestigious amateur title when he recorded rounds of 70, 70, 73 and 70 to finish fifth in the 72-hole qualifying tournament. He went on to defeat Australian, Dean Van Kampen and New Zealanders Kevin Chun and Josh Geary, before beating leading qualifier, the Korean Sun Hoon Kang, by one hole in the semi-finals.
Tempion, from Kingswood in Victoria, made a fast start to the final, firing birdies at the second, third and fourth to open a three-hole lead. However, Ramsay battled back, finishing the morning round two ahead before storming home to win the title at the 31st hole.
"It's a fantastic achievement and something that everyone in Carnoustie can be justifiably proud," said Willie Gardner, Chairman of Carnoustie Golf Links Management Committee.
"Eric is already a stalwart in the Scottish international team and, hopefully, this victory will increase his chances of winning a place in the GB & I Walker Cup team against the Americans in August.
"In the meantime, we are looking forward to welcoming him back and I'm sure there will be a huge celebration."
Ramsay comes from one of Carnoustie's best-known golfing families. His father, David, and his grandfather, Willie, both won the Club Championship while his uncle, Willie, is a former champion of the Carnoustie Caledonia GC and current captain of the Carnoustie GC.
The new young champion joins a long list of Carnoustie natives who have made names for themselves at home and abroad. Indeed golfers from the Fife town have won Open Championships in Britain, United States, Canada and South Africa.
Perhaps best-known of Carnoustie's ambassadors were the Smith brothers, Willie, Alex and Macdonald. Willie and Alex won three US Opens between them. In 1899, the former won the inaugural event at Baltimore GC. And seven years later Alex edged Willie into second place. He won again in 1910 in Philadelphia after an 18-hole play-off against Johnny McDermott and his brother, Macdonald.
Another famous Carnoustie ex-pat was Stewart Maiden who, today, is renowned as a teacher of the great Bobby Jones.
It was reported that Stewart and his brother, James, emigrated to America where James became the professional at East Lake, in Atlanta.
Stewart succeeded him there in 1908 while working there and popularly known as 'Kiltie' met Jones, who developed a swing one that strongly resembled the Scotsman and often called on him to help iron out any faults.
Eric Ramsay follows in the great traditions of the Scottish town and is looking to emulate his ancestors.