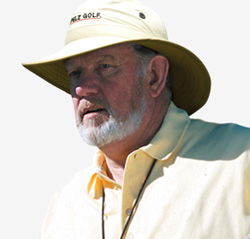 "Weekend golfers can bash 10 times the amount of balls they do on the range and they'll never improve,"says Dave Pelz.
World No.2 Phil Mickelson telephoned short game coach Dave Pelz in December 2003 and said: "Dave, I want you to save one quarter of a shot per round off my game."
The following April, Mickelson won his first major at the US Masters and Pelz, having analysed Mickelson's game, has transformed the way he practises.
And it's the same process for weekend golfers the world over, if only we realised.
"There isn't a golfer alive who couldn't shave a shot off their game, but it's all about the way you practice," Pelz told me at Royal Birkdale this week.
Before Mickelson won the 2004 Masters, Pelz, who has set up short game academies across the US and now he has one at Killeen Castle, near Dublin, got Phil hitting 10 balls on to the green with a lob wedge.
Then he had him do it with a 6-iron and then with a putter.
Mickelson got up and down six times out of 10 with the wedge, five with the 6-iron and eight with the putter. Pelz was making the point that if you practise the same shot with different clubs, you will learn how to save shots.
You learn more about the 'percentages of success,' as Pelz calls it.
So why do weekend golfers waste time and money belting buckets of balls into a field?
"If you are practising the wrong part of your game, you can practise for the rest of your life and never learn a thing," say Pelz. "Weekend golfers can bash 10 times the amount of balls they do on the range and they'll never improve."
That, he claims, is golfing insanity. Go to any driving range in the world and you will see 20 golfers bashing balls down the range to every one golfer practising chipping. Golfers don't think...so golfers must be stupid.
"Two thirds of the game is the short game from 100 yards in. But 95% of practice is on the one third of the game that has very little to do with scoring."



"65- per-cent of golf shots relate to the short game," says Pelz, here overseeing Mickelson practice at the US Masters.




The truth is out there and it's all about stats and percentages. Pelz has spent his entire life researching data for NASA before turning his attention to analysing thousands of rounds of golf.

Result: it's all about the short game - 65% of shots in golf relate to the short game, and 85% of the shots lost to par are from the short game - according to Pelz.

"You need to make it simple enough to play your best," Pelz said. "If you practice with a bad putting stroke eight million times, you will repeat exactly that terrible stroke eight million times.

"Practice doesn't make perfect; practice makes permanent. You have to find a stroke that works then practice it thousands of times until it becomes like breathing."

OK, got that. Seems simple enough. Right then, where's my driver and a bucket of balls!