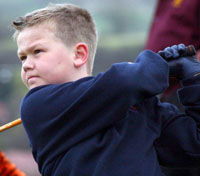 Rhys Pugh
The future of British golf is in safe hands well into the next decade, judging by the standards reached in the Young Masters Golf championships at The Celtic Manor.
Dozens of children aged between six and 15 competed and it was 10-year-old Rhys Pugh from Pontypridd and Sophie Johannson (11) from Stockwood Park, Bedfordshire who emerged victorious from the Mirrorpix-sponsored event over the testing Coldra Woods course.
The boys competition came down to a shoot-out after 18 holes with Rhys, eight-year old William Aldred and Maxwell Martin (6) all returning to the first tee with seven shots remaining on their handicaps in the flag competition, where each players tries to reach as far as possible before they used up their strokes. Rhys won at the third extra hole.
Sophie, meanwhile, sealed victory on the 17th green, beating 15-year old Jacqui Frankham and Garazi Zubikarai (12) who edged Bethany Crowley into fourth place.