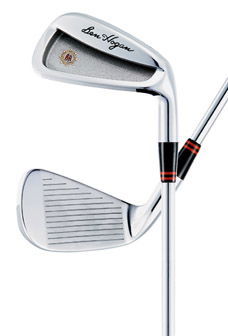 Apex Edge Pro irons - outstanding.
Price for eight irons (3-Equaliser): £549 (steel), £649 (graphite)
Fifty years ago, when the golf legend Ben Hogan formed a company to start making equipment under his name, there weren't clubs referred to as pitching or sand wedges.
Irons were numbered three to 11. But because Hogan, who had become the first golfer to win three professional major titles in one season, believed the short game was 'a great equaliser' and that this scoring part of golf began with the No.10 iron, he decided to call it The Equaliser.
Not a lot of people know this!
But it's one of the fascinating things I found out when I tested the latest set of forged irons from the Ben Hogan Company – complete with large 'E' gouged out in red on the sole of this lofted club.
Unfortunately it wasn't until I'd over-clubbed my approach into an unplayable lie in a pot bunker at the back of my home club's final green, that I discovered the club I had thought was a gap wedge between pitching and sand wedges, in fact had just 46 degrees of loft!
But it was a small irritation in an otherwise outstanding set of eight irons (3-iron to E) of which the company can be proud.
From my first shot in four rounds playing with the clubs – a punched 9-iron into a soft opening green which sucked back a couple of feet – to the last, in a winning match against local club rivals, the Apex Edge Pro irons behaved almost impeccably and I was a total of eight under my handicap for 72 holes.
As I've mentioned many times I'm no expert with the longer 3- and 4-irons – preferring to ease back with a beloved 7-wood - but the shapely lines, muscleback cavity and higher launch angle of these longer irons bored through the wind when gripped down the handle.
The 5- and 6-iron are more than a match for most cast-headed clubs I've tried on 150 to 160-yard par three holes, while the 7-iron set up a 4-foot birdie chance in Saturday's match which even brought applause from one of the opposition pair!
If none of you have tried forged clubs, they can be less forgiving than the angular and offset cast heads of Callaway and Ping but a consistent strike is rewarded with a feeling through the fingertips more like squeezing a tennis ball than one used in snooker.
As for ball flight these clubs ripped the ball through even four and five club winds, rock solid in their penetration towards the target.
The shorter 8 and 9-irons delivered good control from the forged carbon heads that had been hammered into shape by Hogan's craftsmen in the foundry. As for the Equaliser it proved a responsive club around the green and at full stretch carried at least 110 yards with bags of spin - if only that final green had measured 90 to its centre!
Verdict

If your game has improved to an extent, where you fancy -and can afford - a move into forged clubs from traditional cast models because your ball-striking is becoming more consistent, you will be rewarded with the feel these clubs generate. More chunky than the elegant Mizuno MP-30 they are no less stylish at address. If there is a criticism it is that the ugly numbering on the sole cheapens their overall appearance and, depending on the sun's direction, the reflections generated from the heads at address can dance at irritating angles in the takeaway.
Golfmagic rating: 8.5/10

*Why not tell us about the equipment you're currently using. You could win a sleeve of Titleist balls.