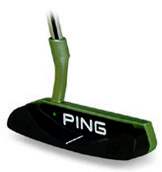 My Ping Specify putter.
I've tried literally dozens of putters in my time as a golfer, with large heel-toe-weighted heads like the one with which Jack Nicklaus won the 1986 Masters and with tiny heads, centre-shafted and made famous by Paul Azinger.
I've also tried mallets, blades, broomhandles and bellies but have always returned to the little old putter – a Ping Anser copy hand-made by a PGA pro in deepest Norfolk - that has served me well since 1970.
However, it now looks set for permanent retirement since having a custom-made Ping Specify built to my personal specification.
Like many I was sceptical that a putter designed by computer even though it was assembled by skilled craftsmen at Ping's factory in Gainsborough, could provide the same confidence, feel and consistency that my Parr One had delivered for over 30 years.
My original brass-headed friend had been polished and cherished, cajoled and thumped into the ground, suffering every humiliation apart from being toed from the back bumper of my car in times of stress.
Regularly it created a wide range of emotions from joy at holing a 40-footer for an unlikely birdie to despair at rolling the ball wide of the hole from less than 12 inches.
However, it's time to retire the old boy to be replace by a 21st century weapon that I have taken to like a well-fitting glove. Made to my individual specifications on the Ping website, with 31.5 inch shaft, heavyweight, Zing-style back and flat top hosel, this Specify has a '4-deg flat' lie to match my crouched, low hands putting stroke.
Okay I'm not suddenly holing outrageous birdies and par-savers across the bumpy greens that proliferate most courses in March but the roll it achieves – as several playing colleagues have noticed - gives almost every putt a chance.
The Specify feels like an extension of my fore-arms and the soft feel from the cast head enhances the control I can exert on the ball.
I chose the spec that suited me from more than 30 different combinations of hosel, shaft, head and weight which can be created and bolted together, a nine degree variation in lie and three degree options in loft.
The cost of £130 may appear expensive but putters have for too long been the poor relation in the golf bag even though they are responsible for nearly half the strokes we make in a round of golf. Compare it with the £300 plus we're prepared to pay for a hi-tech driver which we'll maybe use a dozen times in 18 holes.
Verdict

Though I've seen the Specify emblazoned on the caps of Ping heroes like Lee Westwood and Angel Cabrera, I've yet to see one used on Tour but that's not to say they're the product of equipment hype and marketing spin. Like a made-to-measure jacket, mine suits me, Sir!
Golfmagic rating: 8.5/10

*And don't forget there's a chance to win one of five Ping Specify putters free by entering our competition. But first you must sign up as a member.