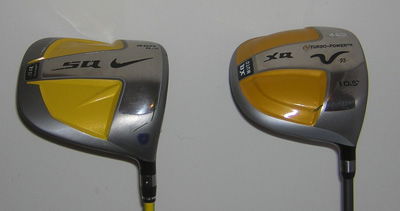 Does size matter? Sumo 2 on the left, XQ MUTO copy on the right
It's not perhaps what a leading manufacturer like Nike Golf would want to hear, but first impressions comparing the company's latest SasQuatch Sumo (traditional shaped) and Sumo 2 (square-headed) drivers and a cheaper copy - the Turbo Power XQ MUTO 460Ti - detected little difference in performance.
The Sumos, neither of which are available for purchase until early in February but currently doing the rounds on specific UK demo days, has a recommended price of £349, while its clone rival is already on sale at £79. Head-to-head the square clone 'imposter' is significantly smaller than its Nike rival.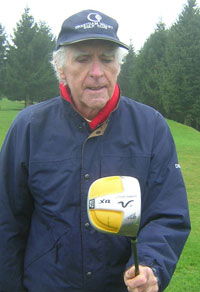 Keith Heppenstall preferred the XQ clone




Within hours of receiving all three sample clubs, myself and two senior members of Greetham Valley Hotel Golf Club - not many were venturing out in the conditions with rain threatening - embarked on a driving test over 18 holes this week.

In search of performance comparisons we swapped the clubs around - often hitting as many as nine drives between us from one tee (we just about had the course to ourselves) - and found our straw poll results quite revealing.

Keith Heppenstall (67), a retired water board call centre manager, originally from Bradford, is a self-confessed equipment junkie and is never happier than when trying new products and isn't afraid to risk a purchase online.

A typical example is the 15 handicapper's, current driver, a 10.5 degree Geek Failsafe Pro Series with an Accuflex regular shaft, bought unseen from Geek Golf in the US for the equivalent of £102.

It's a key reason why he preferred the copy among the trio of clubs we tried.

"I'm retired and I'd never consider spending £350 on one club, even though I hit both the Sumo drivers quite nicely. I also liked the feel and the balance and they gave me a little extra distance. But the added benefits are not enough to encourage me to spend that kind of money. They're not worth it," said Keith.

"Of the three I preferred the copy club," he added. "The head, though square, was slightly smaller than the Nike clubs and sat nicely for me at address and gave me a few extra yards on my current driver."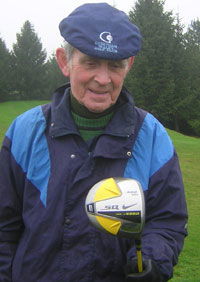 Ted Hudson - opted for the Nike Sumo




For Ted Hudson (71) a retired pilot/instructor in the RAF and Greetham Valley golf club secretary/treasurer, the choice was clear.

"Like many golfers I'm in the market for a new driver this year because my current one - King Cobra SZ 440 - becomes illegal next January because of the new restrictions in the trampoline effect of some clubfaces," he revealed.

"I will seriously look at this Nike SasQuatch Sumo (with the traditional shape) because it definitely gave me extra distance off the tee, which is always a great benefit at my age. I preferred it to the Sumo 2 because distance is really all I need. I'm already a straight hitter and the extra accuracy benefits of the square driver don't really apply to me, " said Ted, who admits to a fascination with ballistics and its correlation in golf technology with launch angles and trajectory.

However he was particularly impressed with the new Nike clubs' wide soles and forgiving clubfaces which encouraged him to attempt hitting the drivers off the deck.

"I've never been able to do that with my previous drivers because of the deep faces but with the Sumos it was easier to get them airborne, albeit having the advantage of preferred lies."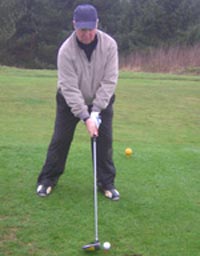 Bob Warters set to hit the Nike Sumo 2




My own opinion is that the price tag of £349 for either of the two Sumo drivers will soon prove a tough proposition for many golfers. Indeed I've already spotted almost universal £60 discounts (£289) for pre-release orders among several online retailers.

While the XQ MUTO copy club gave me a more penetrating flight and a little more distance, it was not as forgiving or as accurate as the square-headed Sumo 2. As for the traditional shape of the Sumo it scored best for its versatility and was the easiest of the trio to strike purely off the deck.

We anticipate with interest whether the revolutionary shape of the new 2007 drivers will have the impact the pre-launch hype has suggested. Certainly Nike and Callaway (with its own square-headed FT-i driver launched next week) have invested heavily in this new technology and other major brands will have to respond, with many golfers in the market for legal drivers by the end of the year.