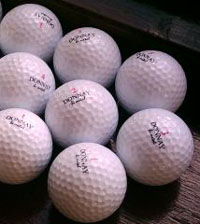 Donnay Pro One golf balls
You don't have to be in love with the golf product you bought to win a prize for your Golfmagic user-review – as policeman Steve Hatton from Wadebridge has discovered.
Steve, who describes himself as a 'youthful 45-year-old detective sergeant with the Devon and Cornwall constabulary," told us about the Donnay Pro One golf balls he bought and was somewhat scathing in his analysis of them.
"I wouldn't use them on the range." he said "they are truly terrible."
Describing their strengths, he claims: "I'm struggling, here. They are white and have got pimples (dimples). And there's no chance of mixing your ball up with anyone else's. Because no-one else uses them."
Steve tells me he has been playing golf for only six months since having to give up competitive cycling after suffering a heart attack.
"But I'm thoroughly enjoying my golf at St Kew Golf Club, near Wadebridge, with a handicap of 28 but which I am informed is due to be cut soon. I'm regularly returning scores between two and 11 shots under my handicap par. despite my baseball grip."
He adds: "A change to my new Callaway X-18 clubs about a month ago has also really helped my game and it is since this change that I have managed to sort out my short game and return these below-par scores."
Steve is one of three winners of a dozen Callaway Warbird golf balls, courtesy of County Golf Direct., for his amusing user review.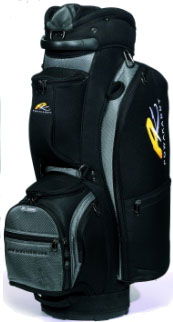 PowaKaddy cart bag
Darran Nicholson from Kent, told us about the PowaKaddy De Luxe golf bag he got free when he purchased his PowaKaddy trolley.
"What a bargain," he says.
"The pockets are exactly where you want them. Everything has its own compartment, so you never have to search around in your bag. In fact there are compartments in compartments. A great design and it fits beautifully on the trolley and not too heavy.
Darran (28) is a special effects artist for film and television with an 18 handicap at Langley Park, where Sir Henry Cotton was once the pro.
"As a junior I played off seven at Uttoxeter but gave it up for ten years for University and only recently returned to the game," he says.
"Even though I enjoy playing, my short game has become an embarrassing mess and in competitions I play like a fool and contacted your forum service for help. Very frustrating."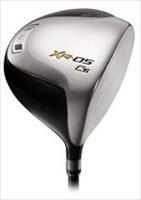 TaylorMade XR-05 Cti driver




Our final winner in April is Francesco Borsotti who lives in Rome and coincidentally the Italian Open is taking place in Milan this week. He wins his prize for telling us about his TaylorMade XR-05 Cti driver.

"It's expensive, " Francesco admits. "But I could almost instantly fix my slice and the percentage of drives in the fairway has dramatically improved. What more could you ask?"

Francesco (41) distributes digital music and audio equipment in Italy and has a European handicap of 30 at the beautiful Parco di Roma which hosted the Italian Ladies Open last year.

"I started playing golf a couple of years ago, helped by a friend," he says. "I am totally crazy about this game, even if I do not have all the time I'd like to play it."

*Tell us about your golf equipment – clubs, balls, bag, shoes, waterproofs etc – by submitting a user review during April. You could win one of the dozen packs Callaway Warbird balls we give away every month.

And if you've got clubs to buy or sell second hand you can do that too, in our popular classified section.