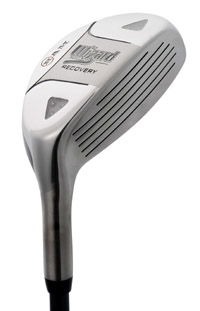 Ram Wizard Recovery club
Price: £39.99
They're here, they're there, they're every-blooming-where! However did we cope without the rescue or recovery club?
With so many high handicappers - and some single figure golfers, too – finding that long irons can be hard to hit consistently Ram launched the Wizard Recovery iron to introduce the philosophy to a wider audience on a budget.
The 21-degree right-handed version, which I tried, certainly looked square at address, but it took me half a dozen shots to find the best ball position (just forward of centre in my stance) to enable me to hit a comfortable, high draw.
That tallied with Ram's claim that this club has a lower, deeper centre of gravity than traditional long irons, allowing maximum forgiveness on mishits plus high launch angle and spin for those towering shots that stop quickly. I swung it easy for the best results.
Price includes a neat head cover and it's available in Men's right-handed 16, 18, 21 and 24 degree lofts (regular shaft) and 16, 18, 21 (stiff). For left-handers the options are 18, 21 (regular) and for women 24 and 26 (right-hand only).
Verdict

For those who can't afford the best in its class (the TaylorMade Mid rescue club), this is an alternative budget offering which should appeal particularly to mid and high handicap players, as well as women because of its light feel and graphite shaft.
Golfmagic rating: 8/10

For details of your nearest stockist call 01895 813613.