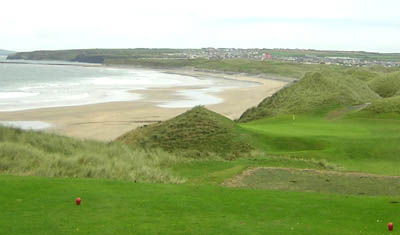 Ballybuinion Cashen's spectacular par-3 16th



BALLYBUNION NEW (Cashen) When US President Bill Clinton sat down to lunch with the captain of Ballybunion Golf Club, he asked casually if he lived close by.
And when the Irishman explained that he owned a nearby farm, the President replied:
"Oh yeah…with an old, grey Massey Ferguson tractor parked out the back."
"Actually, yes, Mr President. How did you know that?"
"Well, the registration plate is out of date!" said the President with that famous twinkle in his eye. "My people need to know these things," he added, nodding in the direction of a stony-faced secret service agent standing in the corner.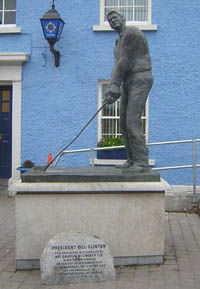 Statue erected of Bill Clinton in 1998 in the heart of the town




In fact, the President's entourage in 1998 for the first of two visits he has made to Ballybunion, was reckoned to include over 300 agents and bodyguards who built up a series of dossiers on everyone Mr Clinton was likely to meet as well as screwing down every drain cover on the 21 mile route between the course and Cork airport, to prevent any potential explosives being detonated.

Three years later, Mr Clinton made a informal visit, arriving in one of three helicopters which emptied the bunkers on the Cashen course's 18th green as they hovered to a standstill.

Stopping only for a swallow of diet coke, Mr Clinton moved swiftly from 18 holes on the Old course to the New (Cashen) without hardly breaking stride, further confirming his love for Ballybunion as among his favourite places to play golf, anywhere on earth.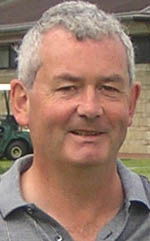 Finton Scannell




He later unveiled a statue of himself in the centre of the village, commissioned by Dick Spring, his playing partner that day and a former Irish President.

I was fortunate to play the same, perhaps lesser known, Cashen course at the weekend with Finton Scannell, a 14 handicapper, who was club captain in 1999.

"I suppose my claim to fame is that Tom Watson was nominated captain here in the Millennium year, so officially I had him as my vice!" Finton told me, as we set off to discover what Robert Trent Jones had sculpted in 1982 from 'the finest piece of links land' he claimed he'd ever seen.

The flanks of the course have suffered from some coastal erosion in the last 20 years, squeezed between the Cashen river and the Atlantic ocean. And shoring up the cliff and dune sides with giant rocks has accounted for most of the club's expenditure in their efforts to preserve this unique golfing paradise.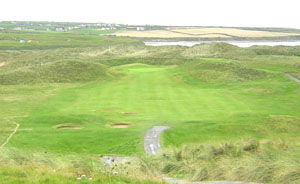 Fourth sweeps down to the estuary




The first three holes are protected by the dunes before the fourth sweeps down from an elevated tee, demanding an approach played into a narrow gap between two mounds; the fifth plays to a parapet green and the sixth is a par-3 over a deep cavern.

As the wind flaps at your trousers, the seventh hole demands accuracy along the shoreline before you find – with blind tee shots - the 8th and 9th cutting through the giant dunes, covered in rough as tough as wire wool.

My 20 points on the front nine owed much to guidance and encouragement from my playing partner, who warned that the back nine would be cooler – into the prevailing wind – and much tougher.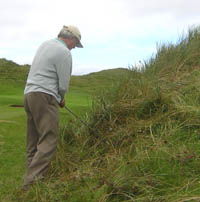 The rough's like wire wool




He wasn't wrong. The tenth, into the teeth of a south-westerly felt distinctly chillier from the tee, demanding an approach to a viciously stepped green from the angle of a 90-degeree dogleg. Unusually, successive par-3s follow, both to elevated greens, which severely test your club selection.

Finton's introduction to the 'six toughest finishing holes in Ireland' coincided with my worst stretch of play during my three-day stay in Ireland, intimidated as I was by periods of indecision with approaches to tiny greens perched on ledges which even a seabird might not consider big enough to build a nest.

Just three points from four holes sealed my fate in the chase for individual honours among our 12-strong party, with the edge of the green on the par-3 16th less than two metres from a sheer drop to the glorious sandy beach stretching below.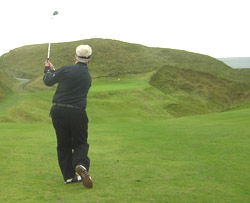 Approach to the tricky 13th




The 17th offered some respite as an undulating par-5 and at 18 I was able to regain my status as an occasionally half-decent golfer with a solid tee shot and an 8-iron to the edge of the green.

Perhaps, the only disappointing aspect of Ballybunion is an outward design of a clubhouse, which from the approach to Cashen's 18th green, looks more likely to provide a home for a World War II gun emplacement. But that description would be to bely the warmth visitors are accorded from all over the world.

I doubt if Michael Douglas, Michael Jordan or Mr Clinton, could have received a more hospitable welcome.
Verdict

There's far more to Ballybunion than its well-documented Old course. Cashen, its young brother, is no poor relation and will test every club in your bag. It's tough but it's fair and memories of your round will go on and on as the pints of Guinness with your name on them, stack up at the bar.
Fact File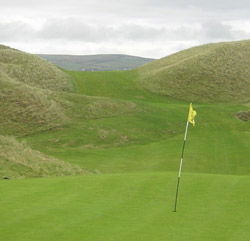 The 15th green –one of several holes set on a 'ledge'.




*Ballybunion Cashen course is included in the Kerry Challenge 2006/7 where golfers can book three rounds (including two of the three at Killarney Golf and Fishing Club) for a total of £130 in low season and £150 in high season.

Useful websites

Ballybunion Golf Club (00353 (0)68 27146), Ballybunion, Co Kerry, Ireland.Killarney Golf and Fishing Club (000353 (0)64 31032)

For further information about golf in Ireland visit www.discoverireland.com or call free on 0800 039 7000