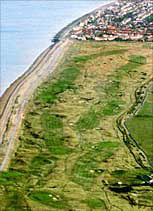 Aerial view of Deal course
Greenkeeping consultant Gordon Irvine, who appeared on the award-winning BBC programmeCoast, is the man behind the restoration of Deal's Royal Cinque Ports course to a world-class championship links.
Irvine was featured on Coast rediscovering the Old Tom Morris course on South Uist in the Outer Hebrides. Old Tom, one of the game's original pioneers, won four of the first eight Open Championships and helped create many courses, including at St Andrews, Prestwick and Carnoustie.
His course at South Uist has lain overgrown for more than 70 years. But Irvine believes it is possible to return the links to Morris's original layout.
"This is golf in the raw state," Irvine said. "It is as much a battle against the elements as anything else. There was no earth-moving equipment or anything like that in those days so the course is laid out in the traditional manner on a classic dune system created by the Atlantic swell. It really is the Holy Grail of golf."
By coincidence, both South Uist and Deal were founded in the same year – 1892.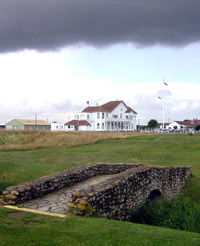 Deal - formerly a 'parkland course in trouble' by the sea




Irvine has been acting as a consultant at Royal Cinque Ports since 2004 and is working on a five-year project restoring the course to its natural links condition.

"When I arrived I was expecting to find a links course that was in trouble," Irvine explains. "What I actually found was a parkland course in trouble.

"All the links grasses had been lost and it had become a soft, lush parkland course. All you could see was a wall of overfed, over-watered green grass. The members, brought up on playing a traditional links game, were going to the pro shop and buying lob wedges in order to play the course. It was a tragic waste of what remains a wonderful links layout."

Irvine instituted a programme of sustainable maintenance, reintroducing the traditional fescue grasses, reducing the amount of watering to a quarter of its previous quantity and use of fertilisers to a tenth of previous levels. In addition, numerous bunkers have been re-shaped, new tees added and greens returned to their original size.

Although Irvine stresses there is more work to do, he is pleased with the results so far. "We are proving to a lot of courses what you can do it you respect what should be there and maintain it accordingly. We all saw how wonderfully Hoylake played for the Open this summer. Here at Deal we enjoyed conditions like that for nine or ten weeks. The course is firming up and we are probably firmer in the winter than most courses in the summer. That's the sort of golf we want to get back to playing."

Footnote: Ken Hannah has been appointed new secretary at Royal Cinque Ports from January 1, succeeding Ian Symington, who becomes the secretary of Royal West Norfolk at Brancaster in March.