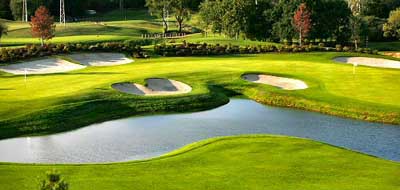 Augusta's 12th (left) and 16th greens re-created at Northwick Park
It's not every day you get the chance to challenge a Ryder Cup player to a sudden death, nearest-the-pin, shoot out at the 16th at Augusta – and win!
But in golf, sometimes dreams can become reality. And it happened when Padraig Harrington joined a group of press and Wilson Staff retail customers for a demo day at Northwick Park, the unique golf complex in North London.
At this state-of-the art golf centre, six holes have been recreated by Peter McEvoy to reflect some of the game's most famous, including the 8th (Postage Stamp) at Royal Troon, the 12th at Royal Birkdale and the 6th at Oak Hill.
For our head-to-head, the 157-yard par-3 16th at the US Masters course was chosen, demanding a carry over a lake also flanking the left side of a green that tilts sharply from right to left.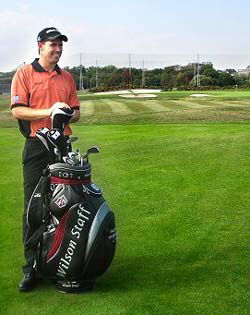 Harrington prepares to play Northwick Park's 16th green




The tees and greens are beautifully manicured to USGA specification and as good as you'll find at any Tour venue. As for the grass slopes, humps and bumps which frame the links holes, it's as if you had slotted a mighty spade under each hole, lifted the ten-acre turf and laid it down in this in one of the capital's parks.

Against Harrington I was a thrown a crumb of comfort when he revealed he was torn between clubs for the shot he faced.

"The wind's a bit left to right, so it's either a soft 9-iron or a hard wedge," he told the attentive gallery of club pros and handicap golfers like me. "Yeah, I'll hit the wedge."

As we know from his appearances on our TV screens and at Tour events, the world No.17 doesn't hang about once he makes up his mind about a shot, though the decision-making can take a time.

He stands squarely behind the ball, looks down the target line and then, with that slightly flat-footed, rolling gait he'll grip the club, as he moves forward to take up his stance.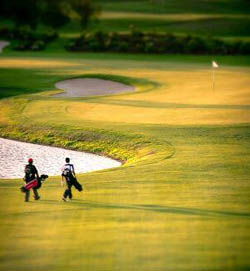 Approaching the 16th green 'at Augusta'




A glance at the target and a twitch of the shoulders, which have been particularly sore recently after a tumble on his son's bouncy castle, he settles and is ready to pull the trigger.

Purists would admit the Harrington swing isn't pretty. Though he's over six feet tall and as fit as a flea, it's born of a self-taught natural ability, not cramped by text book coaching from an early age. In fact, it's reminiscent of the heavyweight Russell Claydon – the ice-cream loving Spurs fan who won the 1998 BMW International and now languishes on the Euro Pro Tour.

Harrington has a similar, dipping shoulder turn and a follow through that dumps the hands, arms and club over the left-shoulder as if heaving a sack of potatoes. He holds it there for a second or two, tongue firmly in cheek, watching the ball flight and urging it through the air.

Clipped from a broken tee peg, the ball soars in a soft, drawn arc towards its target but suddenly drops a few feet short and spins back, 25-feet shy, into the fringe grass.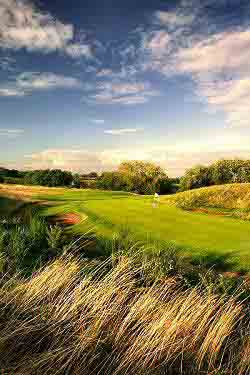 'Postage Stamp' hole re-created at Northwick Park




Opportunity knocks!

Shaking as I struggle to place ball on the tee, I've selected a 6-iron, which suddenly feels a little greasy in my hands. But with great courage and nerves more like wire wool than steel I make contact.

The ball flight is more rainbow than penetrative but with enough momentum to bounce on the front of the sloping green and roll harmlessly to the back, about 15 feet from the pin.

"Not bad, not bad," says Harrington with about as much enthusiasm as a football fan having witnessed a nil-nil draw at Peterborough United on a wet Tuesday.

But as I stepped aside I allowed myself a little clenched fist of success. Head-to-head, one-to-one, in mini-matchplay I'd put one inside one of the world's greatest modern players.

Full focussed and fully fit, 99 times out of a hundred, Harrrington would deliver the ball on the green nearer than most mid-handicap golfers. But Northwick Park gives us the chance to live out our dreams a bit like back street footballers with jumpers for goalposts. And though you don't have the chance to take on a champion face-to-face the place allows you to pretend.
Verdict

It's a place to play the holes so vivid from television coverage, live and with your own golf equipment, for the equivalent cost of a round of drinks and without the aid of keyboard and a mouse. A unique experience and one that's highly recommended.
Northwick Park holes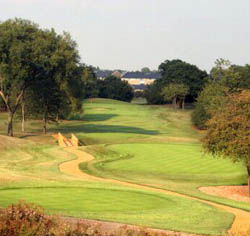 First hole modelled on Riviera
Hole 1 (US Open) 205 yards, par-3
A tribute to the 6th hole at Riviera, where Ben Hogan won the US Open in 1948 and where visionary golf architect George C. Thomas Jr built a bunker in the middle while creating undulations to enable you to putt round it.
Hole 2 (Walker Cup) 323 yards, par-4
Inspired by Ganton's classic short 14th, scene of several thrilling Walker Cup battles in 2003, with the pin often tucked away behind the right hand bunker on a subtly sloped green.
Hole 3 (US PGA) 194 yards, par-3
Influenced by the 1980 major at Oak Hill won by Jack Nicklaus and the 1995 European Ryder Cup win, where the 6th is guarded by a distinctive bunker and the green slopes towards the back.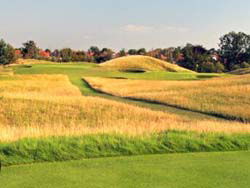 Birkdale's infamous 12th (left) and the 'Postage Stamp' (right).
Hole 4 (Ryder Cup) 368 yards, Par 4
Though also reminiscent of Gleneagles, a tough approach is modelled on the 9th at The Belfry, with water and a multi-level green. Into the wind, it's a strong drive and a long iron for most. A waterfall like the one beside the 4th hole at Valerrrama also comes into play.
Hole 5 (The Open), 118- or 161-yards, par-3
Two classic links options.To the right Postage Stamp 8th at Royal Troon, where Gene Sarazen holed in one in 1973, and where Tiger Woods took triple-bogey six in 1997. To the left, Royal Birkdale's 12th, once described by Tom Watson as one of the world's great short holes.
Hole 6 (The Masters) 151 or 158 yards, par-3
A double-green tribute to Augusta National. Play either the 12th at Amen Corner, with its shallow, well-defended green or swing right to the 16th where again water hugs the viciously sloping. Both holes are evocative of early April Sundays glued to the TV.
Fact File

Six holes round the Northwick Park Majors course, a bucket of balls on the range and 30 minutes free time at the short Game centre will cost you £15 (£25 for 12 holes including extras). A practice card (unlimited range balls and short game area) costs £29 per month. Unlimited rounds on the Majors course and practice facilities costs £49 per month.

To post a review of a course in the UK you have played, simply find the course through our extensive data base.

We have nearly 2,000 reviews posted on Golfmagic to help you decide which to play and every month our winning reviewers get a pair of Stuburt Profile S shoes, as worn by Ryder Cup stars David Howell and Mark James.