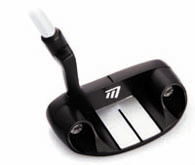 MCZ700 putter
On the eve of the new season, The Masters Golf Company, based in Weston-Super-Mare, is launching a range of new putters for all abilities, from £16 to £50.
The MC-Z700 (£49.99) is priced at the 'premium end' of the Masters Golf range and includes moveable weight technology – two heavier tungsten weights for slow greens and light, aluminium plugs for faster greens.
Golfers can also choose to weight either the heel or the toe, to help square the clubhead at impact. A milled insert and Lamkin grip combine to help clubhead feel.
Other putters in the new Masters Golf range include the XS models (1-3), each with polymer inserts and distinctive alignment aids and costing £39.99 each.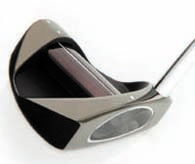 XS3 putter




Five putters feature among the Masters True Line mallets – increasing in head size from from No.1 to No.4, while the NC-010 has a balata insert and deep head for easy alignment. Prices from £15.99 to £19.99.

Black Diamond and Silver Diamond mallet putters (£24.99 to £29.99), continue to prove popular with either three-ball or cut-away designs.

Masters Golf has also expanded its range of training aids and accessories, including a chip and drive practice mat (£19.99), a pop-up chipping net (£22.99), Laser Putt returner (£19.99) and extendable 'Ball Grabba' (£21.99),