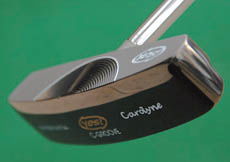 Carolyne putter from Yes!Golf.
Yes! Golf has added another C-groove putter to the range – already successfully used by major championship winners Retief Goosen and Jeong Jang. The centre-shafted Carolyne – 16th in the line - was launched in Florida recently and will be available in the UK shortly.
Commented Dave Richardson, director of sales for the putters, designed by Southport-based putting guru Harold Swash: "As with all the putters in our line, customers are amazed how much sooner topspin roll is achieved. The ball rolls off the putter face instead of skidding. With C-groove technology comes more control, accuracy and consistency."
The Carolyne is face-balanced and features a larger, more forgiving head. It will be available in standard, belly and broomhandle models with variable weighting options. Recommended price will be £119.

Bay Hill ball retriever
For your nearest stockist call 0845 601 5778 or visit www.yesgolf.co.uk
If you're having difficulty bending to retrieve your golf ball from the bottom of the cup, Bay Hill is introducing the Never Bend putter grip, which will suck up your ball with ease.
The all-in-one putter grip and ball retriever can be fitted to most standard putter shafts and is available as a standard or oversize grip.
Cost will be around £14.95. For your nearest dealer call 01704 894688 (Voko UK Ltd.).
*Tell us about the clubs in your bag - as well as the balls, shoes and waterproofs – by submitting a user review
And if you've got equipment to buy or sell second hand you can do that too, in our popular classified section.