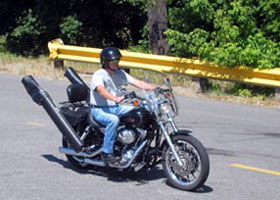 Are you a biker golfer?
A golfer in a hurry to make his tee time reached an estimated 160 mph on his motorcycle, a Washington deputy sheriff reported this week.
Deputy Danny O'Neill, started tracking the northbound motorcycle on Interstate 5 in Cowlitz County on Sunday morning and based on his own speed, estimated that 27-year-old Andrew Nelson was doing around 160 mph.
O'Neill reported that the motorcycle weaved in and out of traffic and even used the hard shoulder.
"He was off like a shot and it's lucky no one got hurt," the prosecutor told the court when Nelson appeared on a reckless driving charge.
O'Neill added that he got close enough to get a look at the rider, with his distinctive backpack and the tailpipe configuration of his motorcycle, but he terminated the chase at the county boundary before Lewis County authorities eventually located the motorcycle at a petrol station.
Unrepentent, Nelson told the police officer he was on his way to play golf but because of the delay in giving him his speeding citation 'he was going to miss his scheduled tee time.'
Are you a golfing biker? Did you know that in the US you can even buy golf saddlebags for your motorcycle?
Tell us on the forum if you've ever been caught speeding on the way to or from playing golf. Was the officer sympathetic because he or she was a fellow golfer?