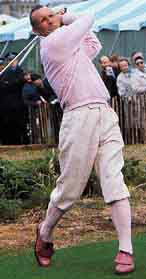 Max Faulkner – outrageous dresser
How Max Faulkner would have revelled in the high profile given to today's top golfers. In his pomp he had the personality and dress sense of Ian Poulter, the charisma of Tiger Woods, the outrageous shots of John Daly and the wit of Lee Trevino.
Faulkner, who died yesterday (February 28) aged 88, was 50 years ahead of his time – a superstar before the term was coined to identify Hollywood-style icons. Quite appropriate then that he left us on the day after the Oscars were handed out. He'd have been in his element.
Before Tony Jacklin re-kindled the British love affair with golf, with his win at Royal Lytham in 1969, Faulkner had been the last Briton to win The Open – the only time it has ever been played in Ireland – at Royal Portrush in 1951.
Typical of the man, he took a six shot lead into the final round and before setting out signed a golf ball for a young fan: 'Max Faulkner – Open champion'. He scraped home by two shots after hitting a miracle shot over an out of bounds fence and back on to the green.
He was one of the first golfers to work out on his fitness and watch his diet and he courted publicity with his colourful clothing, which he turned to after spending time recuperating inside grey hospital walls after perforating an ear drum in an air raid.
I was privileged to be asked by his son Guy to serialise his memoirs for Golf Weekly in the late 1990s and last met him at Nailcote Hall in 2001 when we were joined by Charlie Ward, another former Ryder Cup octogenarian, who finished five shots behind him at Portrush.
Their conversation was enthralling with Faulkner regaling us with stories about his early years as a club professional at Sunningdale.
"I was only a kid and went for interview with the pro Archie Compston," recalled Faulkner. "He sent a letter to my mother agreeing to take me on as an assistant, but on three conditions – 'I didn't associate with the caddies, I had nothing to do with women and I kept my motions regular!'"
As a physical training instructor with the RAF during World War II, Faulkner didn't pick up a golf club but enjoyed boxing and was a services champion.
No wonder then that an arrogant Sam Snead recoiled in haste when Faulkner threatened to punch him for not apologising after walking out during a series of exhibition matches in the US.
As a golfer, Faulkner's talents were unrivalled and he found the game so easy he almost became bored with it. On one occasion he is reputed to have walked on his hands from green to tee during a British Matchplay tussle with Dai Rees at Carnoustie.
Belatedly awarded the OBE in 2001, Faulkner was a regular at the West Chiltington course in Kent, which he designed with his son-in-law Brian Barnes and for many years played nine holes almost daily, with ex-Ryder Cup colleague Ken Bousfield.
Though a critic of the switch of the Ryder Cup from Great Britain and Ireland to European, Faulkner was a big fan of the golfers who expressed their personality through their humour, clothing and skill.
The game has much to thank him for as a golfing pioneer.