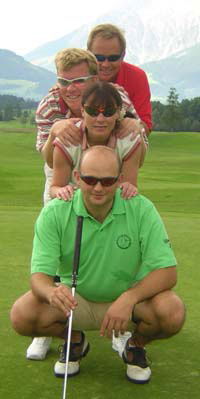 Checking out the line of the foster Grant range
Many of us, perhaps, think sunglasses worn on the course as golfers merely showing off, appearing to look 'cool' in the style of professional golfers paid thousands to reflect an 'in control' image.
But while a club golfer behind the shades can be perceived as being overblown with his or her own strutting importance, it's not necessarily the case.
Today's sunglasses are an accessory that can definitely help your game and offer protection from dangerous rays of strong sunlight that can harm your eyesight.
Sunglasses made specifically for golf can also help you better distinguish fairways and greens, help you follow your ball in flight and crucially, not interfere with your swing. They will also protect your eyes from ultraviolet light and from the rare instance of injury.
When ski-ing and playing golf in Austria at between 1,000 and 5,000 feet above see level I took a range of sunglasses from Oakley and Foster Grant and for other players to wear and review.
In style and looks there initially seemed little to choose between the two brands, though Oakleys performed better in picking up the undulations of greens and distant targets against a background of trees and mountains.
Golfers Agnes (Foster Grants) and Cecille (Oakley)
Agnes Koch, former Europa Cup skier for Hungary, an instructor and a keen golfer, told me: "Wearing the right sunglasses for sport is very important.
"As well as protecting your eyes from rays at altitude that can do you harm, they must keep out the wind and conditions. For both ski-ing and golf I find that sunglasses without frames, especially at the bottom are preferable.
"They are much less of a distraction when one-thousandths of a second is vital in ski-ing. And when lining up shots for golf or trying to hole important putts you don't need a frame in your eye line."
Here is what to look for when purchasing a pair of sunglasses
Ultraviolet Protection
Since golf takes place outdoors, your glasses should protect you from 100% of ultraviolet radiation (UV) and the danger is growing since the depletion of the ozone layer exposing the world to harmful UV radiation. UV has been proved to cause various eye problems, such as cataracts, sunburn to the eyelids, pterygium and skin cancer around the eyes. Macular degeneration is also one of the leading causes of vision loss, especially among the elderly population in hot countries.
Protection from 400 nanometers of radiation is what distinguishes cheaper sunglasses from more expensive ones, though most will block all but the most damaging rays.
Altitude also increases radiation, with an increased intensity of 16% for every 1000 metres above sea level. This is compounded with the reflection of snow, and the winter and spring months increases risk for UV radiation damage.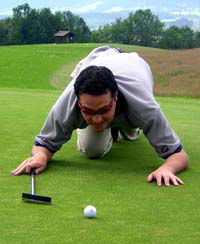 Steve Wilson wears the Ironman range
Lens Colour
A lens that absorbs blue light will help you read greens better and follow your ball in flight. The greens and white ball will be enhanced, while the blue of the sky will be muted. Look for brown or amber lenses to increase contrast. Some golfers prefer more natural vision and lenses that do not distort. For those, choose a neutral gray or G-15 green-grey lens for true colour perception.
Frame Styles
Many golfers find that regular sunglasses are loose fitting and tend interfere with their swing. As the head turns slightly, the bottom of the frame deflects their view of the ball. Look for sunglasses that do not have a drop lens at the bottom (without frame) that might interfere with your line of sight
Wrap-around frames can also help protect the eyes from wind or dust impair your vision. Dust can make your eyes sore.
When standing over a putt, look for sunglasses that cause less distortion of the line when you tilt your head towards the target.
Frame Fitting
Since you start your golf swing looking down, improperly fitted sunglasses can slide off the nose. Choose frames that have arms and nose clips that can be adjusted to fit so that they do not slide. Several manufacturers have introduced special covers that fit more securely around the ears and temples.
Prescription Lenses
Most golf sunglasses can be fitted with prescription lenses. However, those who wear a bifocals or progressives probably have noticed that they must put their head down for better focus. This is because the bifocal often interferes with the field of view, since the ball on a tee falls into your intermediate or distance vision, not your near-vision that the bifocal or varifocal is designed for.
This can create an uncomfortable head position. A golfer that needs both distance and near corrections should consider special golf lenses. This, for example, would mean a bifocal fitted low on the lens so you can easily see the ball in distance range without creating an uncomfortable head position. At the same time you'll have the bifocal there to read and record on a score card.
Verdict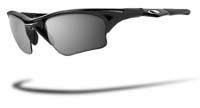 Oakley Half Jacket XLJ shades
Oakley
For golf, Oakley recommends its Half Jacket and Half Jacket XLJ styles, both of which offer a bronze tinted lens to enhance the green of a course and well as its latest Flak Jacket XLJs.
There's little to choose between them including the price tag (£89) though the XLJs have a little more depth to the lens, which have Iridium coatings to reflect glare and heighten contrast and have a more sculpted style.
Also submitted was a pair of from Oakley's 'Unknowns' range (£89) with black frames – ideal for travelling incognito but in my opinion, too much of a distraction at address for golf.
Purchase and stockist information also available from www.oakley.co.uk
Foster Grant
FosterGrant, sent us models from their appropriately-named IronMan branded range of lightweight eyewear.
Significantly cheaper (between £25-£30), their models are tough and rugged with shatter-resistant 2mm polycarbonate lens and non-slip nose and ear grips. Some designs are offered with tilting lenses and adjustable temple joints. Priced competitively at £25 and £30. for you neareststockist call 01782 833033.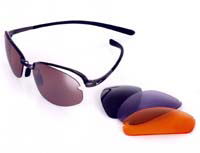 Nike Hyperon III




adidas also makes an entire line for golf with interchangeable lenses. Its Golf 18 range is priced from £79.99 while the lightweight Shield models cost £64.

Nike, too, as you'd expect from Tiger Woods' equipment and clothing supplier, are deep into sunglasses. Their Hyperion III interchangeables cost around £80.

Other leading brands to be found onwww.sportspectacles.co.uk include Bolle Vigilantes (from £99) and Rudy Project Ryden with e-lock nose pads (from £70-£74), in a range of eccentric lens colours.