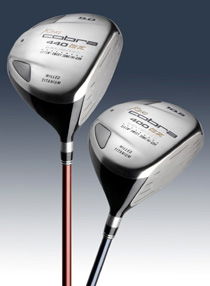 Cobra SZ440 and SZ400 drivers
Price: £269 (SZ400 and SZ440)
With two RAF bases nearby, the solitude in Rutland is often pierced by the sound of Harrier and Tornado jets. Now there's a new noise to cope with – the King Cobra SZ 400 driver.
Logoed ear defenders may need to be supplied free of charge along with the improved gold and black headcover – such is noise left ringing in your eardrums after each strike. The SZ – that's Sweet Zone, as opposed to Sweet Spot – certainly turns heads on the range and on the tee. And 'What the **** was that!' could shortly to be introduced into golf terminology.
As distinctive a sound as the original Callaway Biggest Big Bertha from ten years ago and rivalling the MAC by Burrows Golf Powersphere driver in decibels per square metre, the SZ has certainly made a noisy entrance on the golf scene.
The question is whether either the SZ400 or its big brother the SZ440 - can match the performance and selling power of its predecessors – the King Cobra SS 370 and what I still regard as the benchmark for a club golfer's driver – the King Cobra SS 430.
I was loaned an SZ 400 Unlimited – a non-conforming brute with its Aldila HM Tour 60 graphite shaft (regular flex, high kick point) and nine degrees of loft. With its a smaller head and featuring less face angle and slightly heavier shaft, it should promote control as well as distance.
But while the good shots felt solid enough off the face, I was able to reproduce neither the consistency of strike of my 10.5 degree SS 430, nor the distance. I like a high flight, but this wasn't the club for me and needless to say the strikes I can produce off the deck with the original Cobra, merely turned into a low, squirty fade.
The SZ440 with its lighter shaft oversize titanium head, deep centre of gravity (for a higher launch angle and greater carry) and slightly closed, anti-slice face would probably suit me better and I look forward to the opportunity in the future.
Meanwhile the SZ 440 seems to have been met with universal approval by golfers, indeed four Golfmagic visitors have already publicly given it the thumbs up.
Sukhpal Deol commented: 'I have added about 60 yds to my drive length and reduced the fairway misses by 50%,' while Darren Buckley said his SZ440 was 'worth every penny and will serve long into my rekindled affection for the game of golf.'
As for Lee Simmonds, he wrote that with the club he produces 'consistently long drives all day long with what feels like little effort.'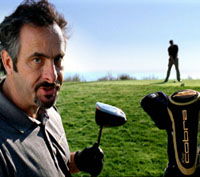 Feherty promotion
But the final word must go to Richard Rendall, who says he'd been looking for a suitable driver for 25 years. Now he's found it with the SZ440.
"Until this thing came along I didn't have a clue where my drives would end up. Now I play with a beautiful draw and haven't missed a fairway in the last 12 rounds. It's an instant miracle."
Perhaps Cobra could have saved themselves a fortune in signing David Feherty to spearhead their campaign to bring the SZ 400 and SZ440 to public attention in a series of commercials.
The word's already out!
Verdict

The new King Cobras won't suit everyone and the noise they make may prove a distraction, but the makers hgave already made many golfers very happy.
Golfmagic rating: 8.5/10