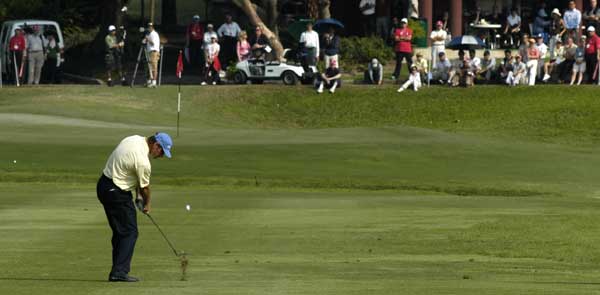 Sir Nick reveals how toget up and down from 100 yards
Six-time Major-winner and record Ryder Cup points-scorer Sir Nick Faldo reveals more secrets of a short-game that made him a World No.1.
THE BASICS:
From 100 yards in, is probably the most important part of the game. If you are really good inside this distance and able to turn three shots into two, it gives you so much confidence. And if you miss the green you know you can get it up and down and that also gives you self belief to go for a shot. I've always felt through my career you cannot practice enough. You don't need different swings, just play around with wrist action, swing path, ball position and arm rotation. Keeping the basic mechanics the same will give you a good repertoire of shots around the green.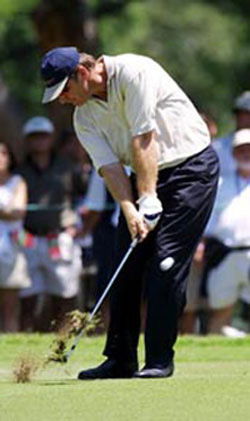 Be positive at impact with your pitch
TRY THIS: DIFFERENT CLUBS
I recommend you experiment with different clubs. I used to chip with my 9-iron because if ever I miss-hit a wedge it can come up 15 yards short. But with a 9-iron there isn't the same bite at impact and it will keep going and run out to the target.
The pitching wedge is always a good club to master, but I find the 8-iron is also great, especially when chipping up a bank and you have to run it up there. The 8-iron tends to make you hit the ball hard enough, while with a 6-iron or 4-iron there's a tendency to hit them too hard.
TRY THIS: TWO BOUNCES AND ON
My secret formula for getting the distance right on pitches, took me years to work out and was very useful, especially at Augusta National, where the greens were always firm and fast. I tried to bounce the ball twice with the third bounce on the green. Try it, it really works.
TRY THIS: PRACTISE FOR EVERY EVENTUALITY
Sometimes when practising my pitch I'd take all the clubs, some days just one club. A favourite session was to take an 8-iron and chuck balls into bushes, into bunkers... wherever. If you practise everything with one club it might just get you out of a spot one day because you'll remember it. You might be stuck in the face of a bunker and instead of reaching for the 60-degree you might have practised with an 8-iron and know that it works.
TRY THIS: PICK YOUR SPOT
I played with Isao Aoki in Hawaii once and he made a real impression on me. He was fantastic from just off the green. He told me how he would pick a spot on the green, just one yard on and play different clubs to vary the distance the ball ran out. He made it easy by having the same landing spot every time.
Nick Faldo revealed many of his short game secrets at an exclusive clinic during the 13th Grand Final of the Nick Faldo Series, won by englands Jonathan Bell in the 2016 Olympic city of Rio de Janeiro in Brazil last month.