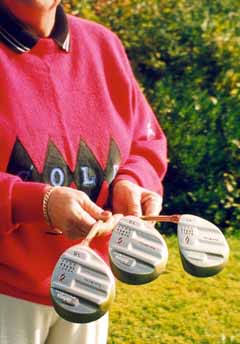 The Delma collection.
Price: £99 each
It was at least 30 years ago that I remember playing in my club's Open and partnering a visitor from Grantham who took great pride in his set of Spalding lofted woods with persimmon heads.
Not just three woods, mind you, but a bagful of beautifully crafted clubs and only a putter and sand wedge made of any kind of metal.
I couldn't believe it when approaching the first green - and less than 100 yards from the flagstick - he took out one of these tiny-headed lofted woods.
Knowing the Rules of Golf prevented me from asking, even with incredulity, 'What's that?' until we'd completed the hole, he later told me it was a 16-wood with the loft of a regular 50-degree wedge. With his variety of lofted woods from 3- to 16-wood, he proceeded to comfortably play to his 20 handicap.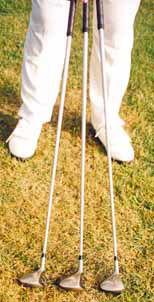 High-lofted metalwoods.
I was reintroduced to these versatile clubs recently as part of the new Delma Special clubs in the Nancy Lopez Collection.
Golfmagic was given an 11-, 13- and 15-wood to test and after an initial round with them I put them in the hands of a group of women golfers at Greetham Valley.
I was initially impressed by the soft, spongy grips, which enabled me to hold them lightly with good adhesion without trying to throttle the handle.
The manufacturers have gone for a whippy, lightweight graphite shaft made by Aldila with 'extra kick', which helps to generate clubhead speed and send the ball high even for shots from 100 to 150 yards.
To the amazement of my playing partners I was able to hit towering shots which landed with a thud on admittedly pudding-like greens.
One shot with an 11-wood, which carried just under 175 yards to within a few feet of the long par-4 fifth hole, even attracted a small round of applause. For me, it's loft and trajectory was equivalent to a 5- to 6-iron, the 13-wood flew like a 6- to 7-iron and the 15-wood, anywhere between a 7- to 9-iron, depending on wind direction.
The feel was a bit 'clunky' – and certainly not in the class of the mild crunch I feel from my Callaway Steelhead 7-wood. And for those delicate chips around the green that I like to play with my 'gentleman's persuader' the comparison was like playing a cover drive from the toe of the cricket bat as opposed to the meat.
In the hands of 15-handicapper Jackie Friend, she said, they produced confidence-inspiring flight but their distance was difficult to control and the feel at impact felt 'heavy'.
Sheila Dugmore (19 handicap) agreed about the impact and distance but thought the clubs were 'easy to hit'. Liz Taylor (22) and Anne McCulloch (17) found the trio of metalwoods were forgiving but needed 'more time to gauge distance accurately'. Ronni Flint (20) liked the clubs and described them succinctly as 'very nice clubs, with good loft and balance.'
Women golfers, being more practical than men, noticed one thing that put them off the clubs immediately – the headcovers.
Said Jackie: "They're too big, bulky and cumbersome. I could not fit more than three clubs in my bag and their shape is too long for a graphite friendly bag and neither do the covers stay on the clubs too well – too top heavy."
One big advantage with these clubs is that they are ideal for juniors new to the game unable to wield heavier, often cut down, men's shafts. These shafts are claimed to be 20 per-cent lighter than standard.
The clubs also feature a grooved sole design with rails to make shots from rough easy to extract, and a heel weight design to keep the clubface square.
Verdict

At £99 each, the girls agreed the the clubs' quality of construction was worth the price tag but with their bags already bulging with lofted woods and headcovers, even an extra tended to be impractical.
Golfmagic rating: 6.5/10