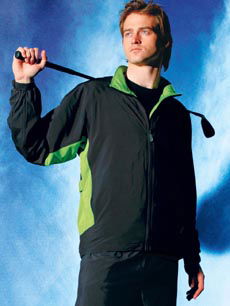 ProQuip Silk Touch weatherwear
It was always rare to see Ryder Cup captain Ian Woosnam in a waterproof suit – he didn't like the bulk, the rigidity and the noise of the material. It effected his swing and his concentration.
He'd rather get wet than be distracted and lose his silky tempo.
However, the former World No.1, as ProQuip's new brand amabassador, has been helping in the development of a new lightweight weatherwear, appropriately called Silk Touch.
Developed over the past three years, Silk Touch features a soft and virtually silent outer fabric and stretchable lining. ProQuip also claims the suit's 15% lighter than its award-winning Ultralite range.
Says Richard Head, ProQuip's chief designer: "This is our most exciting weatherwear launch. Our goal was to make the ultimate, easy-to-play-in, lightweight waterproof suit for every golfer. Our research revealed that many golfers, including top pros like Ian Woosnam, won't wear waterproofs because fabrics are too rigid and noisy. Silk Touch solves that problem."
Silk Touch also features bold new styling, with 'an athletic, slimmer-line cut for the jacket or top and eye-catching colour combinations including lime, orange and cream with black.'
Says Woosie: "It's been exciting to see how ProQuip have included some of my ideas. This is the softest, lightest and quietest weatherwear I have ever worn. It's the first waterproof suit I'm genuinely comfortable playing tournaments in."
Silk Touch is available in a choice of Jacket or Playing Top (£149) with zip-off sleeves, plus black trousers (£90) in sizes from small to XXXL. For your nearest stockist call 01620 892219 or visit www.proquipgolf.com