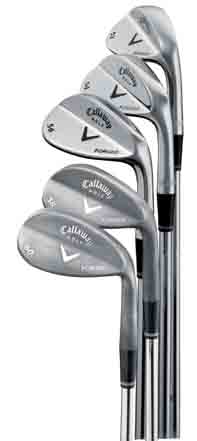 Chrome and Vintage versions.
Price: £109 (Vintage finish)
Testing wedges at this time of year tends to make us a little spoiled by the conditions. The greens are soggy, encouraging more spin than a room full of PR consultants.
So when I got my hands on the latest wedge from Callaway, designed by Roger Cleveland - the man they spirited away from the company that bears his name – I expected something special
And I wasn't disappointed with my 52-degree, Vintage version of the Callaway Forged Wedge. These clubs can make a ball dance so well that next year it'll probably play the role of Gene Kelly in a West End version of 'Singing in the Rain' and entertain the Queen and the Duke of Edinburgh at a Royal Command Performance!
These wedges have computer-milled U-grooves that Cleveland claims channel water, grass and sand away from the ball for cleaner contact and more control, while avoiding excessive abrasion to the golf ball cover. He also says the clubs offer the correct bounce and sole design for each loft helping to dig the out of bad lies in sand and rough as well as pick it cleanly from the fairway.
My golf pals were most impressed by the bite and suck it imparted on the ball, they thought I'd been taking lessons from Greg Norman, the King of Spin. Every amateur golfer wants to inject 'juice' into their approach shots – just like the pros – but few have the technique to achieve it.
Usually it demands a sharp downward contact into the back of the ball from turf that's as firm as a carpet tile but this scoring wedge achieves similar results from grass as soggy as steamed cabbage.
From around 100 yards my shots sat down on a veritable sixpence or backed up as much as two or three feet. With a low punch from 30 yards, they skidded to a halt on the third bounce and with delicate chips around the green stuttered briefly before running out towards the hole.
Cleveland believes that using the forging rather than the casting process gives his wedges the soft, solid feel that pros and top amateurs prefer. And if you want even more spin, opt for the Vintage finish(£109) as opposed to the Chrome (£99). The Callaway Golf Forged Wedges are available in five lofts for right-handed golfers (52 degrees, 54, 56, 58 and 60), and three lofts for left-handers (52, 56 and 60).
Verdict

Over the years I've tried a number of wedges of various brands and usually opted for the shiny chrome variety but this club which looks like a rusty relic performed better than any I have previously handled. I'd really like to keep it in my bag but the lady from Callaway has already given me a deadline for its return and a pre-printed label. I'll be sad to lose a new found friend that keeps my balls on their toes!
Golfmagic rating: 9.5/10